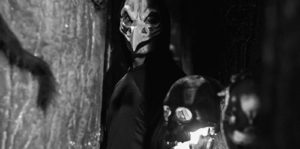 Vampus Horror Tales is an homage to classic Universal Horror and late-night cult movie specials hosted by the likes of Elvira or Svengoolie. The Spanish horror anthology is brimming with macabre laughs and gruesome deaths. It's divided into chapters featuring subgenres within the supernatural and monster genres, with Mr. Fettes or Vampus (Saturnino Garcia) acting as the host/narrator of each horrifying tale. Vampus, an underappreciated gravedigger, fills the transitions between each narrative with grizzly murders in the service of his pet zombie, Toby.
Each chapter offers a unique look at the classic monster genre, and every Vampus sketch feels more darkly brilliant in this entertaining collection of horrors. The individual tales feel and flow like a block of television. Each story proudly displays its horror influences from start to close. La Boda ramps up suspense in a Twilight Zone-esque mystery of ex-lovers trapped in a basement. Cumpleaños creates a Scooby-Doo meets Michael Myers story about a couple at a creepy theme park. Segunda Cita feels at home in the genre of "Hitchcockian cinema," crafting a voyeuristic thriller about a blind woman and her disturbing boyfriend. Linaje concludes the anthology with a bloody story of vampires in the post-apocalypse. Every segment oozes with as much style as there is fake blood — every twist is as shocking and exciting as the previous one.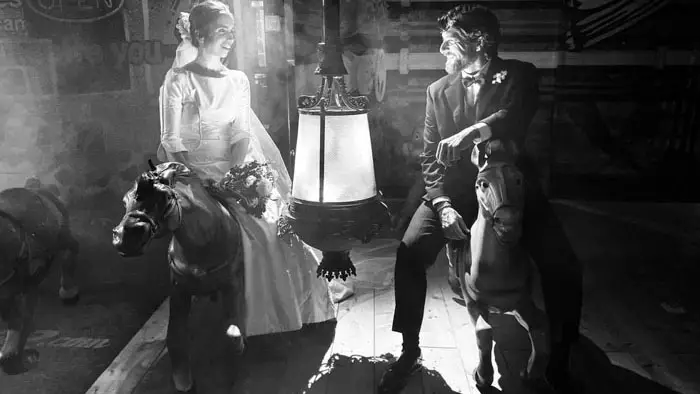 "…chapters featuring subgenres within the supernatural and monster genres…"
While some chapters feel uneven, Vampus Horror Tales always boasts creative vibrato and entertainment value. La Boda is a fantastic bottle episode-style mystery with a foreboding presence looming throughout its runtime. And Cumpleaños hits all the beats of a campy, culty, straight-to-video slasher film. It is like a fake trailer for Tarantino and Rodriguez's Grindhouse. Ironically, Linaje, in all its vampire glory, proved to be a less-thrilling adventure than the previous chapters but had the difficult task of following the segment with the most unnerving ethos and shocking twists.
The anthology format often risks losing a singular vision or sacrificing thematic continuity in favor of diversity. However, this film masterfully displays the collaboration of several skilled directors. Isaac Berrocal, Erika Elizalde, Manuel Martínez Velasco, Víctor Matellano, and Piter Moreira are able to show how, despite their different connections and influences within cinema, they all can come together to create a cohesive work of film, the antithesis of an excellent anthology. Some parts are more robust than others, and not every moment of Vampus works as a lead-in to the next story, but nothing feels out of place when considering the finished product.
Discussing Vampus Horror Tales without constant comparisons and talks of influences is challenging. The film and each director wear their inspirations on blood-soaked sleeves, kneeling at the feet of Sam Raimi, Alfred Hitchcock, Hammer films, and the hundreds of bargain bin monster flicks they've consumed. Some chapters feel ripped from Inside Number 9, while others feel at home in a more violent MST3K marathon. The final result is a pantheon of horror history wrapped into a midnight movie bundle with an eerie host. It's all spooky, dark, monster fun, and a perfect kickoff for the spooky season each October.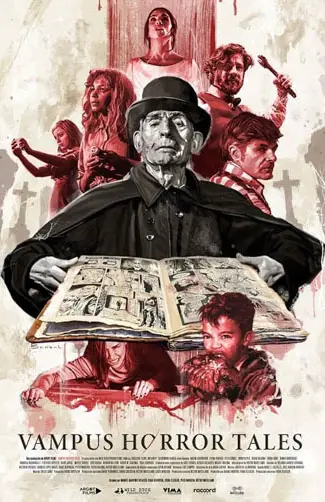 "…every twist is as shocking and exciting as the previous..."