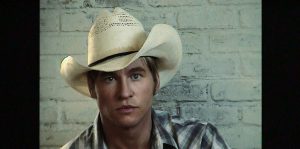 Insofar as it comes to my favorite actors in Hollywood, I have never had a conventional point of view. So while someone might freak out over seeing Tom Cruise in person, I would be about a thousand times more excited to see one of his best on-screen foils, Val Kilmer. The first time I was introduced to Kilmer was in the 1988 Ron Howard classic (?) Willow. Then as time went on and Kilmer's star continued to rise, I found him to be one of the most fascinating actors of his generation.
Val, directed by Ting Poo and Leo Scott, is an assemblage of Kilmer's 40+ years worth of video footage, to put it very simply. He is labeled the cinematographer because all the video comes from his extensive library. I recently found out that Kilmer faced a horrible bout with throat cancer. He can no longer talk like he once did. He has a breathing tube, and his voice sounds somewhat mechanical. He recently starred in The Birthday Cake, and it was written into the film that his character, Uncle Angelo, was shot, and that's why his voice sounds like that. I have to imagine they will do something similar for the upcoming sequel to Top Gun.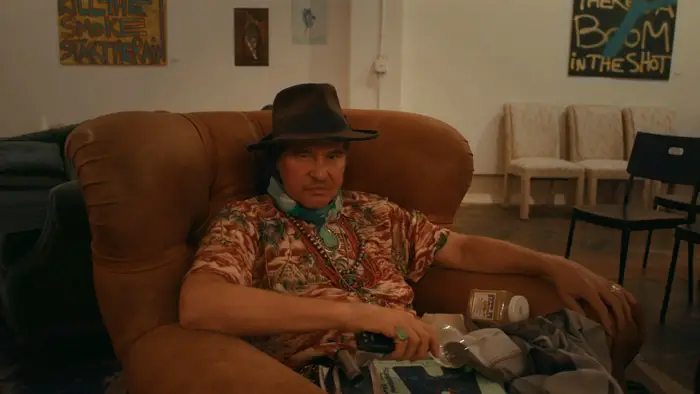 "…an assemblage of Kilmer's 40+ years worth of video footage…"
Kilmer surviving cancer is what made him want to talk about his career and life. He wanted to explain to people the reasons why so many in Hollywood referred to him as "difficult" or "bizarre." The actor wanted the world to see his life through his eyes. The results are very cool. There are clips from all the movies you'd expect/want, most specifically, Top Gun and Tombstone. We see extremely detailed audition tapes that Kilmer sent out to directors he wanted to work with, such as Stanley Kubrick for Full Metal Jacket.
Some of my favorite scenes are from the set of the classically doomed The Island of Dr. Moreau. Kilmer is doing his best as an actor to try to save the integrity of the production. The original writer/director Richard Stanley left the project just before filming, and John Frankenheimer was brought in. From a mostly off-screen recording, we hear Kilmer take Frankenheimer to task for not caring enough about the film they're making. So, yes, this could be considered difficult, but it could also be seen as someone deeply caring about their work.