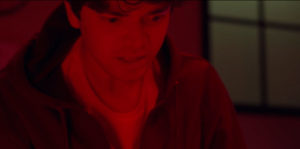 JC Andreu's short thriller, Vagabond, plays on our fears of traveling abroad. On this auspicious trip to the U.S., young Vincent (Isaac Liu) wakes up in a panic midflight. He lost his French passport and is frantically searching for it. Whew! It's there. He had it all along.
As Vincent nervously walks to customs, the agent on duty (Alexandra Milewich) beings questioning him. The questions start simple, but it soon takes a serious tone. It appears Vincent has a forged passport from a fictitious country… France!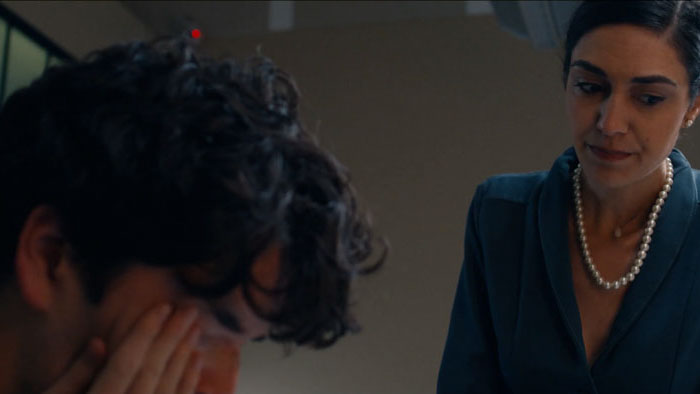 "It appears Vincent has a forged passport from a fictitious country… France!"
Andreu's Vagabond is a tight little thriller running at a brisk 12 minutes. JC served as the film's writer, director, and editor. However, it has several good things going for it. First is a fantastic performance by Liu as Vincent. The opening scene on the airplane searching for his passport sets up the character perfectly, with subtle hints at his elevated anxiety along the way. We feel his panic right off the bat, which carries through the first act.
The short effectively preys upon Vincent's insecurity and paranoia, heading to a Twilight Zone-style ending. My only nitpick is that, like the aforementioned show, I wish there was some bold statement about the human condition in the end. That said, Vagabond is a fantastic thriller and a fun ride for your festival or home viewing.
Vagabond is currently on the festival circuit with 8 wins and 8 selections at various festivals worldwide. For screening information, visit the Vagabond official website or Instagram profile.
JC Andreu has received tremendous recognition for his work on Vagabond.  It was a finalist at FilmQuest, two times named one of MovieMaker Magazine's "50 Bloody Best Genre Fests in the World" and four-time named one of their "Top 50 Film Festivals Worth the Entry Fee". Vagabond took home 3 awards, Best Thriller Short, Best Producer, and Best Actor, at the IndieX Film Fest, an IMDb-qualifying LA-based international film festival with red carpet screenings. It was officially screened in the Best Thriller Short category at the 17th edition of the Atlanta Horror Film Festival. Proudly, it also won Best Thriller Short at the Independent Shorts Awards, one of the world-leading LA-based indie film festivals. The Independent Shorts Awards is an international film festival proud of having boosted projects such as Oscar-Contending "Umbrella" and "After Skid Row" and "One Last Last Heist" acquired by Sony TV.
Mr. Andreu also received impressive recognition with #Hiplet, a feature film that he edited. #Hiplet received many awards and nominations, the most notable being the Best of Black Voices award at the Portland International Film Festival (PIFF). The film was evaluated by an esteemed panel of guest judges, including Academy Award-nominated, Tony Award-winning, and Emmy-winning industry names.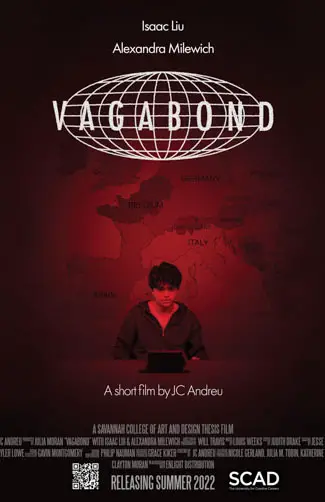 "…effectively preys upon Vincent's insecurity and paranoia..."