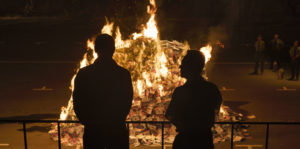 Based on actual events, director Leon Lee's Unsilenced is a bird's eye look at the Chinese Communist Party (CCP) in full action when it feels threatened. Set in Beijing circa 1999, the film follows Tsinghua University student Wang (Ting Wu) and his friends in their relentless pursuit of truth when the CCP launches brutal attacks on 100 million citizens for practicing Falun Gong. Falun Gong is a traditional Chinese spiritual discipline consisting of meditation, four gentle standing exercises, and following the core values of truthfulness, compassion, and tolerance. It is like Tai Chi and Qigong, which have been long practiced in Asian cultures for health and spiritual achievement.
When we meet Wang and his girlfriend Li (He Tao), along with friends/couple Xia (Chen Ying-Yu) and Jun (Shih Cheng-Hao), they are riding bikes, shouting through the streets, and being carefree when they arrive at their college to set up for Falun Gong. They're part of a large practicing crowd of Falun Gong. When Secretary Yang (Tzu-Chiang Wang) learns how more people practice Falun Gong than belong to the CCP, he launches a brutal campaign to ban Falun Gong from China. Since truth and honesty are a part of Falun Gong, so the CCP must use extensive tactics to destroy the idea of Falun Gong. On his way toward a Ph.D., Wang holds his belief in the truth and honesty close to his vest. He refuses to give in and wants to fight the CCP to expose the truth and its rotten propaganda machine.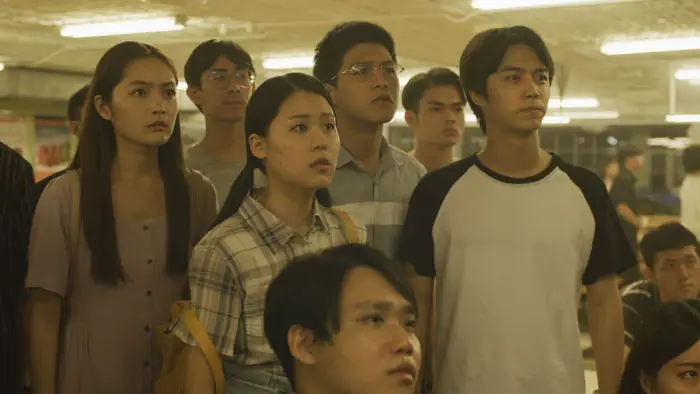 "…launches a brutal campaign to ban Falun Gong from China."
While the CCP is launching its anti-Falun Gong campaign, an American reporter for The Chicago Post, Daniel Davis (Sam Trammell), arrives hoping to revitalize his career from living there before having been banned from China and now reinstated. Immediately, Daniel sees something happening and focuses on the rogue protesting that Wang and his friends have launched. Risking prison, torture, and most likely death, Wang, Li, Xia, and Jun continue crusading, damn the consequences. Xia is violated and tortured, and Jun is shocked to death, while Wang, who marries his girlfriend and eventually has a daughter, continues to expose the CCP and their lives. Wang finds Daniel, who becomes aware of some faulty propaganda video and discovers he has been wired tapped.
Unsilenced opens with a quote from Miguel de Unamuno, "At times to be silent is to lie." This ultimately sets the mood for what's to come and how Chinese people must operate under the watch of the CCP. Everyone is a victim in a society with no truth or justice. Although Wang's story is known worldwide and The Chicago Post exposed the CCP for what it was doing, the CCP continues to do what it thinks is best to control its millions of people.
Screenwriters Lee, Jocelyn Tennant, and Ty Chan do an admirable job transforming college students into social justice fighters and exposing the CCP. But so many people live in fear that much will probably never change. Lee also intends to show that journalism is fleeting, a scary subject on its own, especially for the free world, which upholds journalism as best it can. At the end of Unsilenced, a small victory does occur. However, strong acting would have made this film more powerful.
For screening information, visit the Unsilenced official website.