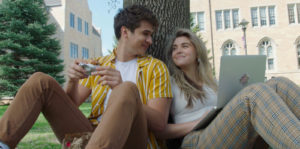 Undergrads, written by Dillon Orth and director Andrew Zuckerman, mines the rich soil from which films such as American Graffiti, Friday, and Clerks once grew: the "hangout" movie. First coined by director Quentin Tarantino in a New Yorker profile, the sub-genre is rather loosely established, marked less by characters' life-defining decisions and more by the choices they make trying to define their lives. These slice-of-life narratives tend to rise or fall solely on the relatability of their characters. If played too insular, it can become a mumblecore mess that dwells forever on the fringe, and if played too broad, it can descend into parody.
Perhaps the Grand Poobah of the hangout film is Richard Linklater, who has repeatedly yielded a cinematic bumper crop of such movies, including Slacker, Dazed & Confused, Everybody Wants Some, and the Before trilogy. Granted, this was produced with perhaps one-sixteenth of the budget and cast of those features, but for a locally grown coming-of-age comedy/drama, the talented young cast and crew should take pride in their harvest. The vibe is casual and loose, and the filmmaking is as tight and polished as any feature on the roster at Sundance.
Undergrads trails two groups of friends whose narrative threads are woven through a seminal time in life: the cusp of college graduation and life's next chapter that awaits them on the other side. After a bouncy animated title sequence, the movie opens with Jamie (Trace Guzman) and Wyatt (Dillon Orth) elucidating their post-graduate plans. Both are in the waning days of college, unsure how to navigate their next steps. More immediately, Jamie and Wyatt are getting amped for their "boys' weekend" getaway at the lakeside cabin of their roommate Drew (Elijah McNally).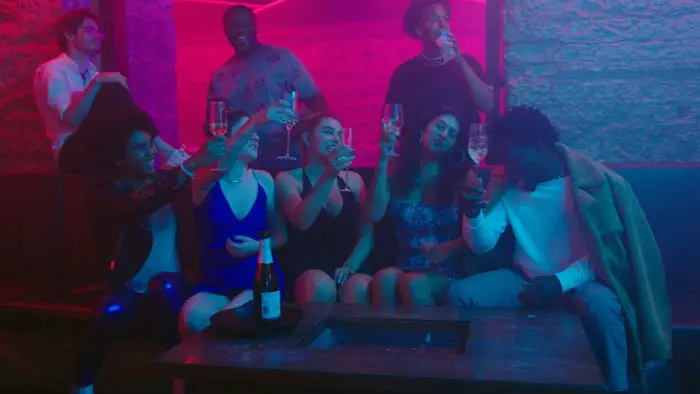 "…relationships are tested, mistakes are made, and bonds either strengthen or break…"
Before the weekend excursion, Jamie opts to spend quality time with his longtime sweetheart, Chloe (Chloe Skoczen), who is also planning a big girls' night out at the club with her roommates Sam (Ali Rosenthal) and Leila (Maya Caulfield). Meanwhile, CJ (Xavier Goodman), who hosts a college radio show with Drew, is awaiting the return of a childhood friend whose now an up-and-coming musician in California. As with all seminal moments in life, relationships are tested, mistakes are made, and bonds either strengthen or break apart as a result.
With Undergrads, it's not so much the destination, which is easy enough to figure out, as it is the ride. Thanks to a strong, dedicated young group of Twin Cities-based actors, it's a windows-down drive with no traffic in sight. Guzman and Skoczen are particularly charming as the lead couple forced to confront a potential fork in their relationship as their degrees send them in different directions. Both imbue a heartfelt earnestness in their roles that allow us to invest in their outcome. The entire cast interacts with comfort and confidence.
All the while, Zuckerman not only demonstrates skill at framing and lighting, but he knows just when to end a scene to prevent this sweet little hangout film from ever once feeling like it's loitering.
For more information on Undergrads, visit the official website.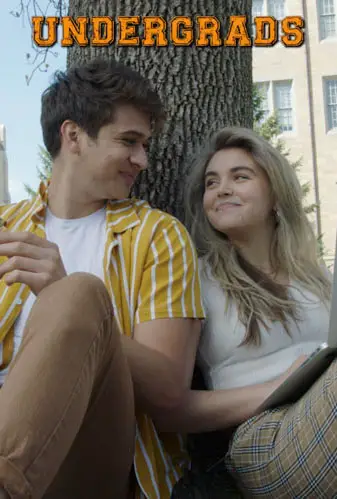 "…[a] sweet little hangout film..."