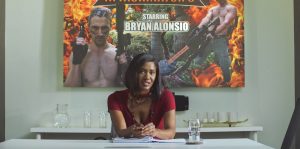 If Hollywood won't tell your story, then tell it yourself. This idea is the premise behind Jennifer Sharp's feature film, Una Great Movie. If you're a struggling screenwriter, then you'll relate instantly to Zoe (JoNell Kennedy). Her dream is to be a screenwriter and write "una great movie." As she develops her script, we see it play out on screen along the way. Zoe's narrative is about Susan (Numa Perrier), who years ago, watched her one true love, Luis (Jose Casasus), fly back to his hometown in Mexico. He asked her to come with him, and Susan said no. Cut to today, and she returns to Mexico to reunite with a now-married Luis.
As Zoe continues to write, she seeks advice (or has it thrust upon her) about how to get her script sold. Her manager (Zac Titus) says she needs to define her characters better (I've said that many times in reviews) and then hands her a book on story structure. She's then given a constant stream of advice along the way to make her script more marketable. Zoe's only respite is her writer's support group, which is more a less a commiseration session.
The main idea of Una Great Movie is the ongoing conflict between an artist struggling to keep their vision intact and the demands of the big studio to conform to what they think will sell tickets (or streaming downloads). Zoe's original plot slowly evolves (for better or worse) toward greater marketability with the addition of a best friend, Jenny (Jennifer Sharp). Then add the demands that she writes with a big star in mind, change her lead characters from African-American and Mexican to… well, you know… or maybe have the A-lister play the ethnic role.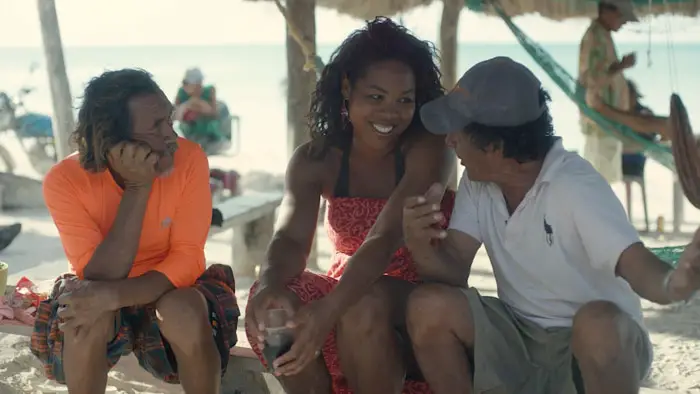 "Zoe's original plot slowly evolves…toward greater marketability with the addition of a best friend…"
Sharp lampoons not only big studio insanity but also the business of consulting through script contests and big-money "how-to" seminars. There's a gag involving a seminar leader played by Cat Hammons that's as insightful as it is funny.
It's hard not to see the independent spirit behind writer/ director Jennifer Sharp's story. You can sense the struggle and difficulty Zoe faces and know that it was just as much a frustration for the filmmaker. The movie is her journey of breaking into the industry and realizing that the "calvary ain't coming." As the title suggests, Una Great Movie is an ambitious film, and Sharp could have easily made a simpler movie (note: irony).
The film-within-the-film portion is shot in Mexico, featuring many of the town's locals for authenticity (and not a trained actor in the bunch). The subplot involving Jenny morphs into a documentary addressing the plight of these "resort" locales, and the impact tourism has on the economy and culture. While this sharp turn into a documentary seems odd, it has its place in the overall narrative. Without saying much more, I loved the ending of Zoe's story for Susan and the one Sharp crafts for Zoe.
Film Threat is an independent movie outlet. Una Great Movie is about as independent as it gets. It wasn't enough that Jennifer Sharp took destiny into her own hands. She maintained her integrity as an artist while also having "sharp" words about the industry. I'm sure making the film is a tale unto itself.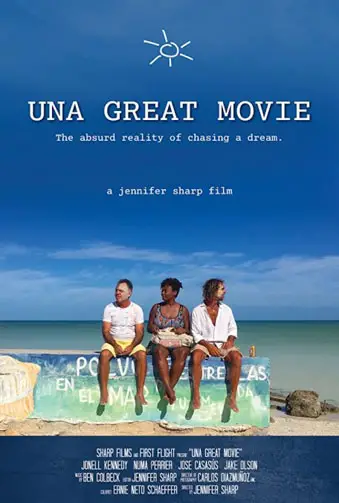 "…about as independent as it gets."