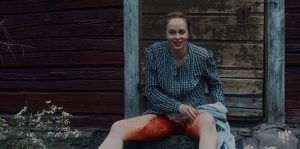 A headstrong textile student tries to overcome her problems by accepting a summer job offer from an isolated and offbeat village of Kyrsyä.
Irina's  (Veera W. Vilo) life is in going down the tubes and fast. After yet another day in college studying textile production and business, she arrives home to a message that her boyfriend has decided to break up with her. Distraught, depressed, and utterly apoplectic, she then finds student life more than impossible. After confiding in her sister over the phone, she decides to take a summer internship at a remote textile firm out in the remote wilderness for a little extra head space.
After a long ride out to the middle of nowhere, the bus stops, and she is told that she must walk the rest of the way to her final destination, Kyrsya or Tuftland. An odd, slender fellow with a pageboy haircut and country couture clothing overhears where she is headed and introduces himself. The boyish oddball named Pertti (Miikka J. Anttila) is also headed to Tuftland and offers to walk her to the factory. Except, they get to the factory and, it is nothing more than a compound. No worries, things Irina, they are really rustic. Then she is admonished… Again and again.
"…women talking in strange code about the prophecy…"
First, it's about speaking contrary to the elder women in the homestead. Next, it's about not being respectful. Then it's about her contrition. All of these are red flags all the way. Yet somehow Irina stays on. She likes the rustic nature of the compound and the seclusion of it all. I mean, they have electricity in waves and absolutely no cell signal. So I mean, AWESOME!
As her summer stay drones on, she is hoping at some point to be able to learn more about the "business" she has come to intern at. Yet every day she is sidetracked by her assigned buddy  Maaria (Saara Elina) with tours of the nearby forest or calm walks in search of mushrooms for dinner. Even after meeting the three men presiding over this clatch of women, she hasn't yet pieced together that something is terribly wrong. The developing mystery is further stoked by mysterious scenes of Maaria, Siiri (Neea Viitamäki), Raakel (Arja Pekurinen), and the other women talking in strange code about the prophecy and how this coincides with what their resident prophet, Pertti, has foretold. Oddly enough, it isn't until our heroine discovers what the town actually makes that she actually loses it and decides to leave. (spoiler alert – It's not that big of a deal and really not the point.) That's when the paska really hits the fan.
"…not so much horror as it is disturbing and not so much mysterious as it is inevitable…"
Writer/director Roope Olenius delivers something that is quintessentially Scandinavian. That is NOT a bad thing, really. The austere demeanor, the highest measured pace, the prominence of internal conflict, it's all here. The experience isn't so much thrilling as it is interesting, not so much horror as it is disturbing and not so much mysterious as it is inevitable. This is not a horror film that attempts to surprise you. This is about the drowsy desire to give in to the familiar instead of stepping out into the unknown.
Certainly not the worst time you could spend with a textile cult. At least the blankets are handmade and terribly warm.
Tuftland (2018) Directed by:  Roope Olenius. Written By:  Roope Olenius. Starring: Veera W. Vilo, and Saara Elina.
Tuftland gets three stars ***
Norm's Rating System: ****(GREAT) ***(Good) **(Ok) *(Awful)