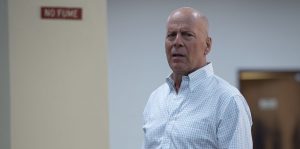 The bad cops shoot at Madison wounding her in the leg, and before they can put her down, Wakes and the police show up when they heard shots fired. Knowing that it was his fellow officers who killed his partner, Wakes hides Madison in an abandoned wing of the hospital to keep her safe. Wakes goes off to figure out who killed his partner and why.
While the core action of the film is relatively solid, the surrounding support structure holding up the action is weak. The characters are pretty cookie-cutter, even Willis as the only good cop in Puerto Rico. Nicky Whelan is good as Madison, but like the rest of the film's characters, they're nothing you haven't seen before. The setting of an abandoned hospital wing sets itself apart from your standard thriller, but nothing groundbreaking happens.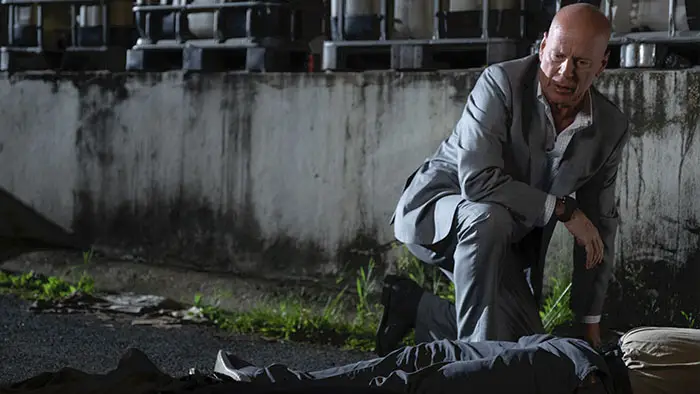 "The characters are pretty cookie-cutter, even Willis as the only good cop in Puerto Rico."
The film is also loaded with numerous plot holes. You're going to sit there always thinking to yourself, "if she did this, she'd escape" or "if they did that, they could kill her really easy." There's one moment when Madison is pleading with an unsuspecting security guard, and out of nowhere, he's shot dead from a distance. Where did the bullets come from? How far away in a hospital wing is the shooter than he/she can't quickly run and capture the wounded victim mere seconds later? Bang…dead!
I'm just guessing here, but Bruce Willis is probably the reason the movie found financing and distribution from Lionsgate as opposed to Steve Guttenberg (who's also make a cameo), and it's not Willis' first time this year to greenlight a project. Production on Ed Norton's Motherless Brooklyn took off once Bruce Willis was cast in his short, supporting role. I surmise the same is true for Trauma Center. Willis gives two very different performances. In one, he's restrained and exudes the personality of the good guy. In the other, he's chewing the scenery by being a little overly dramatic. I'll let you decide which performance he gives in this film.
Trauma Center will be a nice addition to your Bruce Willis collection. You'll laugh. You'll have fun. It's also one of those films you'll sit and watch when you have nothing better to do. It's not his best work, but for me personally, I'm glad he's willing to help low-budget indie films get made.
"…a complex game of cat and mouse."