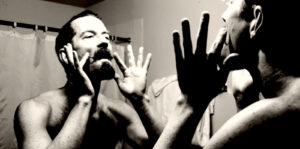 This focus on real-life depictions versus popcorn thrills was a strength of old-school indie films, and the choice of black and white is a recognizable brand of that movement. Besides, what's closer to real-life depiction than seeing someone taking hallucinogenic drugs in a Portland motel room? By marrying the experimental film elements to a genre storyline, the filmmaker indulges in some boundary-breaking while the story's pace remains intact. I became engaged early on and remained so throughout. Very muscular story structures provide an excellent jungle gym for the acidhead escapades.
Two active ingredients add stratospheric lift to Tracer, taking it from worthwhile to "Hey, check this out." The first is the breathtaking score by Sylvi Alli. Her music intensifies and elevates the production with its hypnotizing glow. Images that would have been flat otherwise burn through the walls of your memory because of that awesome soundtrack. Alli definitely knows her onions, and yes, you will cry as she peels them.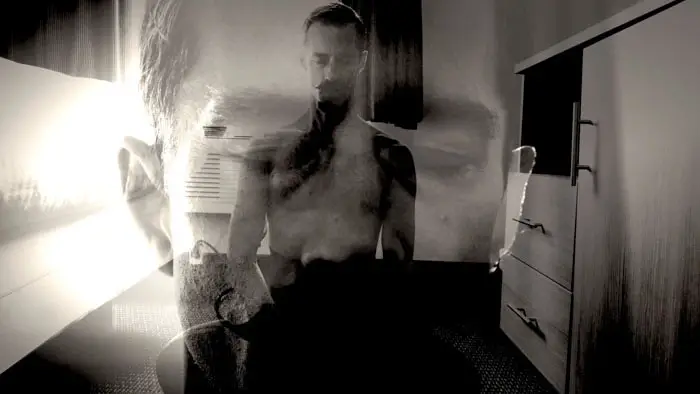 "…indulges in some boundary-breaking while the story's pace remains intact."
The other ingredient is the 8 Circuit Man. Reilly's fantastic abstract face paint and distorted voice delivery are cinema gold — just melt and pour over popcorn. I went from passive interest to lock and load when Reilly started his mind expansion jazz. The 8 Circuit Man could be the new Robbie the Robot, a new counterculture icon destined to be on an army of metal lunch boxes. Mind you, there are plenty of nails sticking out in places, as this is as indie as indie gets. For example, the performances are a little broad but in that exploitation way that adds seasoning to the whole affair. 
Drawing from his vast experimental art background back in the 20th century, Tracer is director Alli's 13th feature in two decades. First, they are screened on the West Coast, and then he makes them available to watch online for free. This means indie filmmaking is not just alive and well but also available as free scoops for anyone who dreams of maverick filmmaking that flashes onscreen like lightning in the sky.
Tracer is now available on DVD and is free online.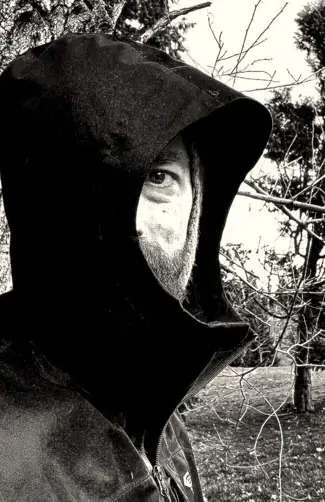 "…proof of the existence of secret cinematic kicks you didn't know there were to be had."