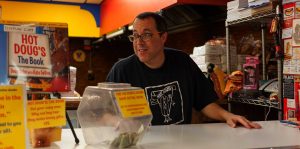 Good food is good food, even if it comes in the shape of a hot dog. In 2001, the hot dog game was elevated when Hot Doug's opened in Chicago. For 13 years, it was the place to get the gourmet dog with waits of two to three hours. Documentarian Christopher Markos tells the story of Hot Doug's race to excellence in Hot Doug's: the Movie.
Clocking in a just under 60 minutes, Hot Doug's: the Movie is a pretty standard restaurant documentary going over its history, philosophy, work ethic, and food with talking head interviews with the owner, employees, and loyal fans. But Hot Doug's elevates the standard doc thanks to its charismatic owner, Doug Sohn and his commitment to excellence.
"…started with Doug Sohn's desire to serve the quintessential Chicago hot dog."
Hot Doug's started with Doug Sohn's desire to serve the quintessential Chicago hot dog. One would think just being in Chicago, the namesake dog would be everywhere. Over time, cheaper ingredients a cost-cutting measure would diminish the dog across the city. Sohn's idea for Hot Doug's was simple—just use the best and freshest ingredients and cut no corners, thus was born the infamous Hot Doug's gourmet dog. Only the best, Sohn used ingredients like foie gras, venison, curry pork, and escargot; and gave them catchy names like "The Joe Strummer" and "The Elvis."
Fame did not come overnight. Like many businesses, they struggled the first few years, and Top Doug's was no exception. Persistence pays off as Sohn's pursuit of excellence would eventually garner him the Best Hot Dog from one of Chicago's famed food critics. The restaurant would then appear on the local PBS station and earn international exposure when Anthony Bourdain features it on his show, No Reservations.
"…Markos knew the exact beats to hit in telling the Top Doug's story."
The question gets asked a lot about films these days and its, "Did this film need to be made?" The story of Doug is not necessarily a unique story about a hot dog shop I never heard of and can never ever patronize. But to me, Top Doug's is the epitome of the American Dream. The dream of finding success on your own terms. Doug is the gold standard of the small business owner. He believed prosperity could only come from a combination of great food, treating his employees excellently, and treating his customers as treasured guests. Sohn's own contentment with just being wealthy and successful, allowed him to keep just the one restaurant and rebuff offers of multiple locations and franchise opportunities.
You want to watch Hot Doug's: the Movie because it somehow gives the impression that succeeding in business is simple. While conventional wisdom says it's not, it's sure easy to spot the reasons businesses fail when held up next to Top Doug's. This film should be required viewing for new small business owners. Christopher Markos knew the exact beats to hit in telling the Top Doug's story.
Hot Doug's: the Movie (2019) Directed by Christopher Markos.
8.5 out of 10 stars