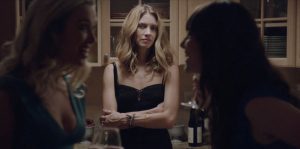 In Manu Boyer's To Whom It May Concern, empathy and understanding are at the center of a story anticipating the worst outcome of depression: suicide. Socially awkward and guarded, Anna (Dawn Olivieri) is a 30-year-old bartender with no foreseeable aspirations or social connections worth cherishing. For fleeting pleasure and connection, she regularly participates in one-night stands with men and women she meets at the bar. The root of Anna's anguish is ill-defined, yet, despite not knowing what she's suffering from, the film opens with her contemplating her death.
Anna's plans for suicide are interrupted by a person who coincidentally enters her life. When Rachel (Paloma Guzman), Anna's neighbor, kicks her boyfriend Sam (Wilmer Valderrama) out of the apartment, Anna welcomes him to stay on her couch. Anna's act of kindness has less to do with hospitality and more to do with sheer attraction. Anna and Sam gradually grow closer, but feelings are misconstrued when Sam is still drawn to his ex-girlfriend.
Anna and Sam are both somewhat clumsy in social situations. Even so, their largely nonverbal interactions feel natural. A telling glance or a slight smile imparts some genuine intimacy. However, the close proximity of Anna and Sam's relationship and the circumstances of how it was fostered remains irksomely convenient.
To Whom It May Concern deals with suicide and depression but does so without ostentatiously explicating what or who caused Anna's feelings of worthlessness. She is reticent and anxious, burdened by a mental illness that an unsavory past may have cultivated, but no one can know for sure other than Anna herself. And that's where the film uncovers value in a socially and emotionally dysfunctional and reserved protagonist. For the most part, the complexities of Anna — her social anxiety, her ebullitions of anger, her past with her father — steadily reveal themselves, but those complexities remain unexamined.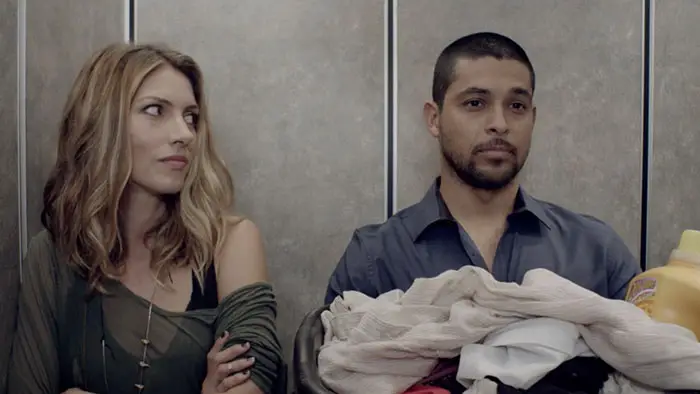 "Anna and Sam gradually grow closer, but feelings are misconstrued…"
Dawn Olivieri delivers a multilayered performance as the distinctly withdrawn Anna. She exudes the required dejection and vulnerability for a role that entails so much, emotionally and nonverbally. Wilmer Valderrama is also quite good as Sam, the compassionate friend who doesn't judge Anna for any past or present misdeeds. Even if words are never exchanged to claim he doesn't shame her, the fact that Sam remains by her side is evidence enough. Yet, for Anna, all efforts to forge a deeper connection with him point to unrequited love.
Through close-ups, Austin F. Schmidt's cinematography fixates on the protagonist as she envisions a future with Sam. While adequately shot all around, the scene that supersedes all others is underwater and closely captures Anna in a state of immobility and defeat. Though straddled with substandard sound, Manu Boyer's mellow direction and discerning screenplay exploit the topics of depression, self-image, and perseverance in a tonally agreeable manner while simultaneously recognizing the sobriety of such issues.
That being said, the characterization of Anna is still left emotionally vague. This is a problem because the ending promotes emotional liberation, and the impact is missing. As far as pacing and plotting go, To Whom It May Concern progresses slowly but sustains momentum thanks to the fine performances from Olivieri and Valderrama.
Perhaps more dramatic tension and divulgence could have vivified the conclusion. Still, even then, the fact that the protagonist is on the verge of taking their life is enough to lay the foundation of a drama of retaining one's identity and will to live — ideation that is, sadly, not shared by all suffering from depression. Manu Boyer, however, believes in it, and his passion for self-care is wholeheartedly demonstrated in his tenderhearted indie.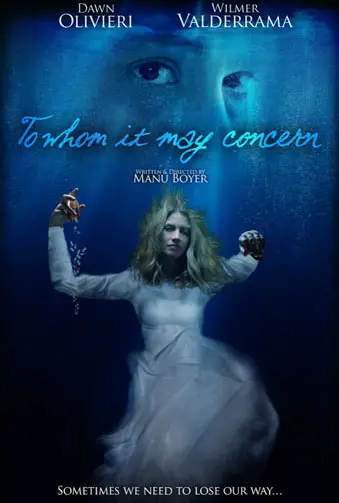 "…fine performances from Olivieri and Valderrama."