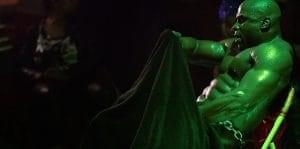 The closest that a lot of us have come to male exotic dancers have been through the Magic Mike movies. I have never encountered one in person, and unfortunately, I'm not just saying this because I know my parents might read this. This One's For The Ladies takes us on tour through the world of underground male dancing shows. These shows are predominantly populated—both audiences and performers—by the African American community. Not saying that white women don't go see strippers, but usually, it's more of a bachelorette-party-only situation. The shows in This One's For The Ladies, which take place mostly in New Jersey, are big social events with regular crowds that have become kind of a family.
We follow the dancers and the fans through their respective worlds of dancing and fandom. The two fans we hear from the most are C-Pudding and Poundcake, who are part of a group called CNL, which stands for "Classy Nasty Ladies." We also have Double Trouble, two younger girls who show up to all the shows, and Michele, a superfan of Mr. Capable, one of the cadre of dancers we see do their thing in this documentary.
"…takes us on tour through the world of underground male dancing shows."
While we do get to see more than a few men show off their dancing abilities—which are unlike anything I've ever seen before, to be quite honest—there are only a few that we get to know more about. Raw Dawg & Tyga are twin brothers who have been at the game the longest out of anyone else in the film. Then we have Satan, who is the only person who we get to see ALL of on the dance floor. Then there is Fever, who has an obsession with Superman and has Superman capabilities as far as the crazy types of flips and jumps we see him do. Then there's Young Ryder who learned a lot about performing from his uncle who was a drag queen who danced in balls in the '80s. Finally, and most interestingly, we have Blaze, who is a dom dancer and the only woman dancer in the film who dances on the male show circuit.
This One's For The Ladies teaches a lot about a very interesting subculture that is not just about muscle-bound men simulating sex acts. We learn that a lot of the young men (and women) chose this profession as an alternative to a life of crime, or as an addition to their full-time career (Mr. Capable, for one, is a fireman). The men and women take care of their families with the money they make from the shows, which can be up to $1,000 a night — not a bad way to pay the rent as far as I can see.
"…talking about the circumstances that young black men in America face says…. 'Money talks and everyone else gets convicted.'"
The great thing about this documentary, other than seeing some very provocative dancing, is that it goes beyond the superficial and talks about the socioeconomic situations that most black people in America face. C-Pudding talks about how her brother was killed by the police. Mamma Joe, who is Raw Dawg & Tyga's mother, talks about her crack addiction and how her sons helped her out of it. Poppa Joe, talking about the circumstances that young black men in America face says one of my favorite lines in the film, "Money talks and everyone else gets convicted."  Pretty Hair, Raw Dawg's wife, talks about how public schools in the poor neighborhoods around her don't even have enough books for the students. We also see C-Pudding and Pound Cake put together a lunch for the homeless with the church, and Michele has a special fundraiser show one night for autistic children.
What I'm trying to say is that even though this is a very adult world (and the film is rated NC-17 for a reason, y'all), it doesn't have anything to do with what positive things that the fans and the dancers are doing for their communities. The people in This One's For The Ladies are fine, upstanding citizens who just so happen to dance naked or like to watch people dance naked. Last time I checked, that didn't have anything to do with your value as a person, especially if everyone involved is having a great time…which they are. I found This One's For The Ladies extremely interesting because it's a world so far removed from my own. Where in the wrong hands, the views could be skewed negatively, Gene Graham treats all the subjects with the respect that they deserve. This film is definitely not for the more puritanical of us out there, or for kids, but if you're neither of those, then I would check the film out. It's a slice of life you'll likely never live yourself, so why not get the next best thing?
This One's For The Ladies (2019) Directed by Gene Graham. Starring C-Pudding, Poundcake, Raw Dawg, Tyga, Sweet Tee, Young Rider, Momma Joe, Poppa Joe, Blaze, Michele, Fever, Double Trouble, Mr. Capable, Satan, Pretty Hair, Jessica, Big Daddy, Tarayyah McGill, Omar McGill Jr., MC Lady Marie, MC V.I.P, Auntie Bea, Jamilya, Niecy, Bridgette Mann, D.C. Pain, Wanted, The American Dream, King Python, Ruff Ryder, G Squad, Adonis, Black Ice, Stallion, Swagga, Caution King, The Artist, Ace, Brick, Smoove, Texas Outlaw, Jungle, Centerfold, Steve The Ladies Man, ATL Seduction, Lethal The Entertainer, Sun Fire, The Dream, Awesome Dre, Intrigue
9 out of 10 stars