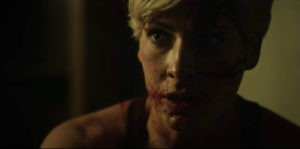 With They Wait in the Dark, Patrick Rea devises an exceptionally sinister tale of domestic abuse, topped off with a couple of startling reveals that will make your blood run cold. Despite a small budget and cast, the writer-director does not shy away from unmasking the complexities of abuse, during which past trauma bleeds into the present.
Rea acquires the audience's intrigue right away as Amy (Sarah McGuire) and her eight-year-old son, Adrian (Patrick McGee), wake up on the floor of a convenience store. After spotting a cop, they quickly gather their stuff and flee to a motel. The director wisely hinges on visuals and nonverbal cues to communicate that they are running from something or someone. A wound on Amy's stomach heavily implies she was abused. Peering through the window, the mother attentively observes her surroundings, wanting reassurance that nobody is following them.
The next day Amy and Adrian go to a diner, where she reconnects with longtime friend Jenny (Paige Maria). Amy and Adrian hitch a ride with Jenny to a secluded, vacant house left by Amy's mother. Here, she's plagued by painful memories but tries to keep them at bay for the sake of Adrian. Laying together close to a fire, Adrian asks, "Is she going to find us?" This line alone lets us know that Adrian's aware of their predicament and the person responsible for their sudden departure: Judith, Amy's abusive ex-girlfriend, played coolly by Laurie Catherine Winkel.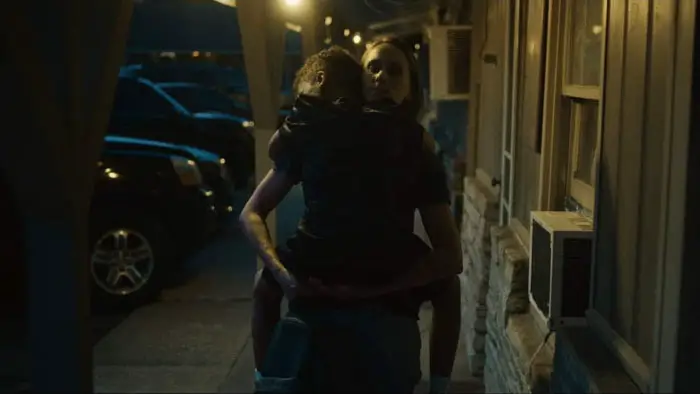 "…attentively observes her surroundings, wanting reassurance that nobody is following them."
Every house has a past, and sometimes revisiting that past is painful. Unfortunately for Amy, she has no choice but to confront such a vindictive spirit resembling an abuser who wreaks havoc. Here's the point They Wait in the Dark begins dabbling in the supernatural. The otherworldly component is tough to get right, especially when the production is working with a paltry budget. In typical haunting fashion, the curtain moves, the door creaks, and hair is pulled. But as rudimentary as the ghostly antics are in design and execution, the entity propels the story in a surprising direction.
In spite of a few stilted interactions with supporting players, McGuire is a solid lead, portraying an abused woman with a lucid supply of vigilance, fearfulness, and emotional exhaustion. But all bets are off if you think you know what Amy is thinking and how she'll react. Brief perspective shifts to Judith muddles our perception of Amy, not to mention Amy herself is prone to sudden outbursts.
For most of the movie, viewers follow Amy's perspective, although little by little, we get to see her true colors. Now, that's not to say Judith is a misunderstood saint. Neither Amy nor Judith is a good person, which becomes more and more apparent. While they both say and believe they're trying to keep Adrian safe, their surly behavior doesn't reflect such intent. Their toxic relationship is compelling, if slightly frustrating, as Rea doesn't treat either of them as better than the other. Alone or together, they are always overpowered by their worst tendencies.
They Wait in the Dark is a grossly unpleasant and uniquely twisted depiction of abuse. While the final reveal realistically should evoke more emotion than it ultimately does, the chills come to fruition under the guidance of Rea's fraught direction. The only soul unblemished by evil is eight-year-old Adrian, who never asked to be a victim of somebody else's trauma or their immoral deeds. This gripping thriller is admirable in its dedication to doing the unexpected, all while making you feel deeply unsettled.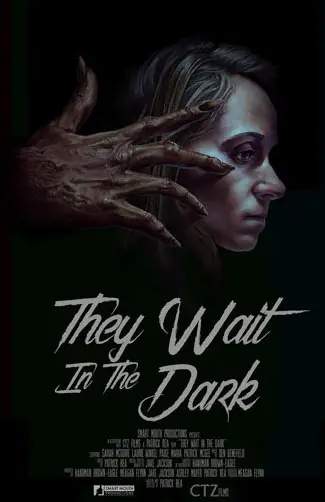 "…a grossly unpleasant and uniquely twisted..."