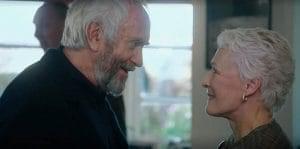 The greatest tool at an actor's disposal is their eyes because a truly great performer can say everything in a scene without ever speaking a word, conveying a range of emotions with merely a glance. For that reason, Björn Runge's The Wife is an unmissable drama, largely in part to Glenn Close's stunning performance in the title role.
Joan Castleman (Close) lives a seemingly peaceful life with her husband, Joe (Jonathan Pryce). One early morning, a phone call wakes them up to inform Joe he has won the Nobel Prize for literature, something he has been waiting his entire career to hear. Like two young children, Joan and Joe jump on their bed in celebratory excitement. They have some of their closest friends and family over to celebrate the news before heading off to Stockholm to accept the award.
Once Joe and Joan arrive in Stockholm, along with their son David (Max Irons), things are quickly chaotic and Joe is treated like royalty. Joan fades into the background, holding his coat and dutifully smiling for pictures, playing the role she feels like she was meant to play. They are courted by Nathaniel (Christian Slater), a hungry writer looking to write Joe's biography and dig deep into their pasts. He seems to be lurking around every corner in Stockholm, only to be shrugged off by the Castlemans.
"…a steady drama, built on biting dialogue and barbs between its characters."
The Wife flashes back to the 1950s when young Joe (Harry Lloyd) and Joan (Annie Starke, Close's daughter) first meet at Smith College. Though it occasionally breaks narrative momentum from the scenes in Stockholm, it provides context as to why things aren't all fun-and-games and jumping on the bed for Joe and Joan, 40 years into their marriage. The flashback scenes are key to exploring decades-long resentments, which have been suppressed and grown throughout their relationship.
Adapted by Jane Anderson from the novel by Meg Wolitzer, The Wife is a steady drama, built on biting dialogue and barbs between its characters. As delivered by Pryce and Close, each line cuts deep and is punctuated with understated power. The cast is uniformly solid but The Wife is a star vehicle for Close, who is mesmerizing in every scene. It's not a showy performance but every scathing glance or sharp rebuttal she delivers is said with such command. At the Nobel Prize reception, Joan is asked what she does and without missing a beat, she responds, "I'm a kingmaker." Saying three simple words have never been more effective than those delivered by Close. Joan Castleman might not be the most iconic performance she has ever given but there's a strong chance it's her very best.
The Wife is a quiet drama, building on its tension evenhandedly as the movie progresses. Runge skilfully capitalizes on the character interactions and when it comes to a crescendo, nothing is ever histrionic. As a director, he really has made an impression in his English-language debut. The Wife is one of the best movies of the year.
The Wife (2018) Directed by Björn Runge. Written by Jane Anderson. Starring Glenn Close, Jonathan Pryce, Christian Slater, Max Irons, Harry Lloyd and Annie Starke.
8 out of 10