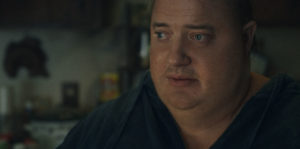 NOW ON VOD! Before I watched The Whale, I was already aware of all the praise for Brendan Fraser and his magnificent comeback. This role has garnered him applause and ovations during the film's run at various film festivals across the globe. While the film, directed by Darren Aronofsky and written by Samuel D. Hunter, has been the talk of the cinematic news lately, nothing can prepare you for the emotional and tearful experience that is in store.
Aronofsky tends to add fantasy, horror, and science-fiction elements to his psychological dramas. With The Whale, the director has challenged himself to explore the devastating emotions of grief, guilt, and shame. This is undoubtedly his most unique creation. Unlike his previous movies, this has a set path, as the story intentionally moves in a linear direction to a conclusive finale.
Fraser plays Charlie, a 600-lb man who wishes to reconnect with his teenage daughter, Ellie (Saide Sink), after being out of her life for almost eight years. As he battles his condition and its effects, we chronicle several moments of sorrow and sadness. All these moments intertwine with several other tales that the other characters bring forth through conversations. Each offers a glimpse at heartbreak.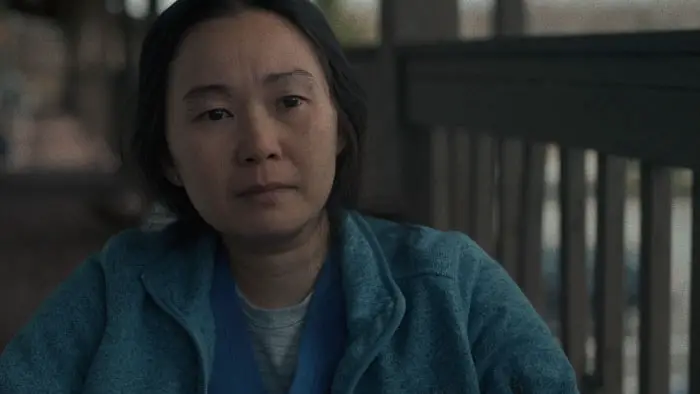 "…a 600-lb man who wishes to reconnect with his teenage daughter, Ellie…"
Fraser has completely transformed his image with Charlie. Playing a lonely, quiet, and self-ashamed obese man, he impresses with his voice and facial expressions, even when his character's limited in movements and gestures. Even in the most heart-wrenching moments, Fraser's calm eyes add depth to Charlie's emotional and psychological core, thus making the character far more comprehensive. It's a testament to his devotion to the role in that he capably carries himself in the prosthetics, adding gentleness to his portrayal.
Fraser's sentimental portrayal of Charlie is mesmerizing, and the character's yearning to talk to his daughter takes over the whole narrative. But Fraser doesn't overshadow the other actors in The Whale. Sink delivers a phenomenal performance, coming across as more confident and charismatic than when she was on Stranger Things. Her fuming rage, profanity, and no-nonsense attitude add a ferocious shine. Charlie's metaphorical emotions wouldn't have had the same impact without Ellie. Her walk, vicious and mean expressions, and conversations perfectly depict the abandonment she has grown up with.
Hong Chau plays Liz, Charlie's caretaker and close friend, who genuinely worries about his condition and reads about her friend's convulsion episodes. Her authoritarian nature, strong-minded personality, and practical perspective create a contrast against Charlie. Each appearance adds extra layers to the character. Amid them is a moment where Liz breaks down and succumbs to her well-hidden feelings, making her a powerful addition.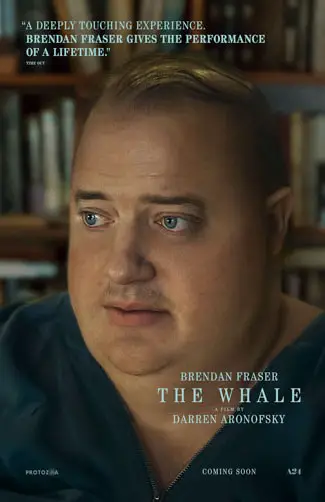 "…viewers break down due to an overwhelming sense of wonder..."