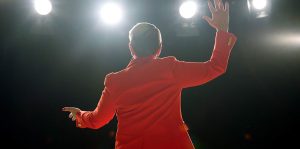 Controversy, controversy, controversy!
The Weight of Success takes a look at controversial life coach and entrepreneur, Dr. Angela Lauria. The documentary goes inside the life of Dr. Lauria from childhood to becoming a successful life coach. The controversy comes from psychologists that see life coaching as a scam.
The film begins with a vulnerable scene in which Dr. Angela Lauria is standing in front of a mirror, only wearing her bra and underwear, as she is inspecting her body in a way that would suggest that she may not be entirely happy with her appearance. The scene would set the tone for a vulnerable and controversial in-depth documentary.
"Angela would make a business out of helping aspiring life coaches…"
As a child, Angela began to become a black sheep in the family and become distant from her father, who had worked constantly as a business owner. The nearly non-existent father-daughter relationship was an issue that stuck with Angela up until adulthood. Angela would have reoccurring issues with her weight, which was possibly a result from her father. As an entrepreneur, Angela's first attempt at a business would fail. She would then turn it around, not only becoming a successful entrepreneur, but also a successful doctor and life coach. Angela would make a business out of helping aspiring life coaches write best-selling books, in hopes of starting their careers.
What this documentary does well is attack the controversial issue from all sides. Various family members of Dr. Lauria, as well as her clients and other doctors, give their input on the matter. When it comes to Dr. Lauria's family, they discuss her issues with her weight, her issues with her father, as well as question her parenting style. Ironically enough, her family doesn't feel that Dr. Lauria spends enough time with her son.
"…it felt like he was just there to do just that, argue."
Within the documentary, a psychologist, Dr. Sam Kute, questions Dr. Angela Lauria about her coaching tactics and beliefs of how she is helping her clients. This interview is a very intense, sometimes comical, debate that weaves in and out of the film. As much as I would thought Dr. Kute made very great arguments, it felt like he was just there to do just that, argue. While asking Dr. Lauria questions, Dr. Kute would quickly rebuttal her answers, often cutting Dr. Lauria off with an aggressive tone in his voice. This "debate" although entertaining, ended up feeling like somewhat of a waste. There was no winner in the debate. They couldn't even agree to disagree as Dr. Kute even argued to do that as a compromise.
After watching The Weight of Success, it made me think about the issue of if life coaches are scamming people and if they actually do care about helping their clients, or if they only care about making money and a name for themselves. The film did not feel like a one-sided product of Dr. Lauria , and all points were fairly viewed. When a film of any kind makes you think, then it has done its job.
The Weight of Success (2018) Directed by M. Douglas Silverstein. Written by Rob Blumstein. Starring Angela Lauria.
7 out of 10