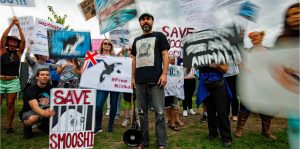 "Whistleblower? I blew whistles for years at Marineland!" exclaims Phil Demers, animal trainer and protagonist of Nathalie Bibeau's heartbreaking – if somewhat incomplete and one-sided – documentary The Walrus and the Whistleblower. Demer's referring to training dolphins, seals, sea lions, orcas, and, yes, walruses at the infamous park situated in Niagara Falls – up until he got a "behind-the-scenes" glimpse at the mistreatment of said animals and decided to take action. In a year plagued by hot-button issues, Bibeau presents another highly pertinent one: the continuous capture and abuse of wildlife – sea life, specifically – that sadly suffers compared to similar docs like The Cove or Blackfish.
Employed at the park since 2000, Demer remembers being particularly excited when they got a baby walrus. An immediate bond was formed between the man and the animal. Demer called the walrus Smooshi because she kept smooshing up against his face. "She was the sweetest and most perfect little ball of innocence," he remembers. Once it was established that Phil had become the "walrus whisperer," more walruses started coming in.
While activists revolted outside the park, Demer kept working until he found out about Smooshi's tortuous journey to Marineland. His conscience gnawing at him, Phil decided to quit Marineland and try to save Smooshi by putting his real whistle aside and blowing the proverbial one on "the backstory of how an animal comes into possession" of the park. Before he knew it, Demer was the one being sued by Marineland for planning to steal the walrus.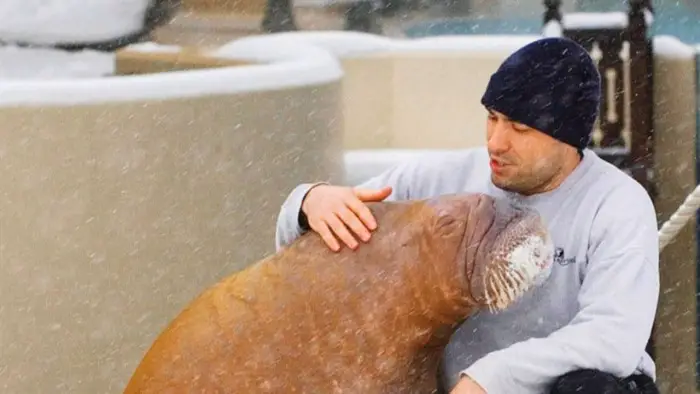 "…kept working until he found out about Smooshi's tortuous journey to Marineland…"
The second part of the documentary gets bogged down in numerous court trials and Demer's incessant vocalizing about the futility of it all. It's abundantly clear that the man is passionate and infuriated, and for good reason; his fury is, indeed, infectious, but he also comes off as pompous, a self-proclaimed hypocrite who gorges on bloody steaks when he's not advocating animal rights. "I sound like an as*hole, I look like an as*hole, I know that the vein on my forehead is bulging," states the self-aware man.
The Walrus and the Whistleblower is at its most affecting when it just shows the horrendous trials and tribulations of captive animals: how training is based on food deprivation, how shallow the animals' pools are, the chemical burns they endure due to the extreme amounts of chlorine in the water. A memorable bit reveals Marineland burying their animals within the confines of the park, a dreadful graveyard amidst manufactured joy. Another vivid anecdote about belugas is bound to haunt viewers for days. Bibeau showcases how quickly people can convince themselves that what they're doing is okay. "There comes a point where the excuses are gone," Demer says.
Bibeau couldn't get anyone at Marineland to make a statement, and The Walrus and the Whistleblower suffers because of it, almost as much as it does from the narrow focus on its protagonist. While it's buoyed by compelling interviews with "real" activists such as self-proclaimed, "anti-speciest" Catherine Ens-Hurwood, it could have certainly taken a few further steps back and examined the bigger issue at hand by, say, comparing Marineland to other similar parks and their practices. As it stands, it's not much of an indictment. As honorable as her intentions may be, Bibeau ends up blowing the whistle so incessantly, it sort of leaves you deaf.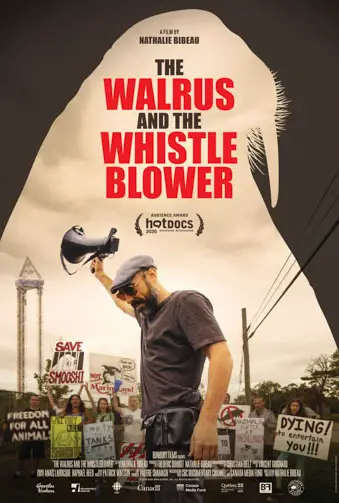 "…could have certainly taken a few further steps back and examined the bigger issue at hand..."