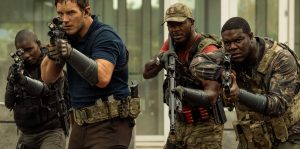 NEW TO AMAZON PRIME VIDEO! The Tomorrow War, directed by Chris McKay and written by Zach Dean, sees the present embroiled in a war that hasn't happened yet. By way of time travel, "expendable" civilians are drafted, and the public is lathered in nihilism due to not only the foreknowledge of a hopeless future but to not even being able to enjoy their present ignorantly. To quote a quotable guy, "I've seen the future, brother. It is murder."
One of those drafted is everyman Dan Forester (Chris Pratt). He is likable because he makes funny faces at children and has trouble landing a job — a market-tested mannequin with rounded edges and white teeth. Dan has a history with the military, so he's able to handle a gun, which means we can skip the training montage and go straight to the wham-bam-thank-you-ma'am. In this case, the ma'am is referencing the spiders from mars, or whatever they are, and the thank you is facetious. The wham-bam is clearly gunfire.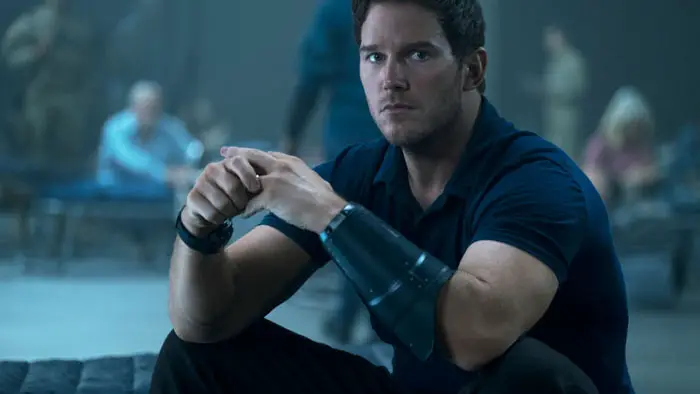 "…the present [is] embroiled in a war that hasn't happened yet."
It's no surprise that The Tomorrow War has the complexity of a maze on the back of a cereal box. The problem is that it's no more fun than a maze on the back of a cereal box. There's an entire genre of action films that seem to be vague relocations of one another. Each entry seemingly covers all the same bases but in superficially different ways. McKay's production falls snugly into this category without protest. None of the set pieces are inventive, and the dialogue is either overly serious or hacky ha-has. In addition to the bland everyman at the center of the story, all the supporting characters are soulless mouthpieces.
If Pratt wants to truly hang around as a Hollywood star for a long time, he's going to have to raise his standards a little. The thing about the movie stars we remember is that they actually made good films, even if they weren't all awards-worthy. For example, between 1967 and '77, Clint Eastwood wasn't churning out stuff like The Tomorrow War and Jurassic World. Instead, he was starring in Dirty Harry, Thunderbolt and Lightfoot, The Outlaw Josey Wales, and The Gauntlet, just to name a few. These are unpretentious, wildly fun titles with provocative characters. It can be done, so why does it seem action tentpoles are all interchangeable nowadays?
Might it be possible to turn your brain off and enjoy the movie? Yes, but you could also turn your brain off and swallow a hamster. You could turn your brain off and do a lot of things. What kind of argument is that? And what's the point when you're streaming The Tomorrow War on a service that has hundreds of other films to watch, many of them more exciting and imaginative than this one? You're not being forced to watch it and must, as a defensive maneuver, cognitively reframe it in your mind. Skip the mental gymnastics and watch something else. Or buy a yo-yo.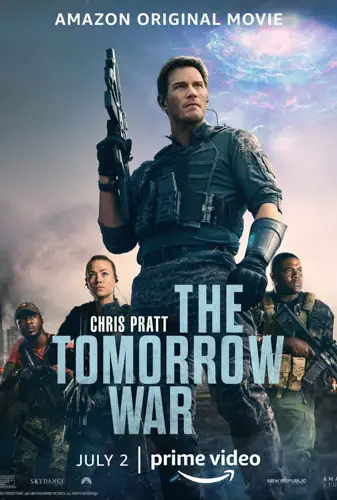 "…turn your brain off and enjoy..."