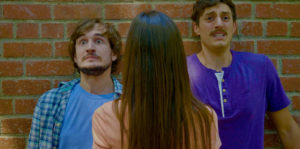 Writer-director-producer Andrew Simonian's feature-length debut, The Take Out Move, is based on the 1997 short of the same name. In fact, some of the fight choreography, blocking, and camera angles are the exact same. But, was the filmmaker able to add enough depth to the proceedings to justify a 75-minute runtime? For that matter, is Simonian able to make audiences unfamiliar with the source material care about this extended version?
A mysterious man bathed in shadow (Zack Kozlow) hires Whalen (Jeremy Sless) to take out a young woman named Amber (Alexandra Miles). However, before he does, she must complete a series of specific tasks. Unbeknownst to Whalen, the shadowy figure also hired Davis (Nick Grace) to take out Amber. Well, the two men wind up in Amber's home simultaneously. As both are stubborn and need the benefits of completing the assignment, they stay.
Whalen tries to convince Amber that Davis shouldn't stick around, while Davis attempts to persuade her that it's Whalen who must go. Given Whalen's hard opinions on red velvet cake, Amber thinks Davis might be on to something. But, with both men at her disposal, Amber puts them to work helping her with the chores. Said chores or tasks include (but are not limited to) cleaning out the litter box, modeling nude for Amber, and giving her feedback on her cooking ("khicken") and singing. All the while, whenever Amber isn't in the room, Whalen, and Davis fight to determine who will be the one to stay.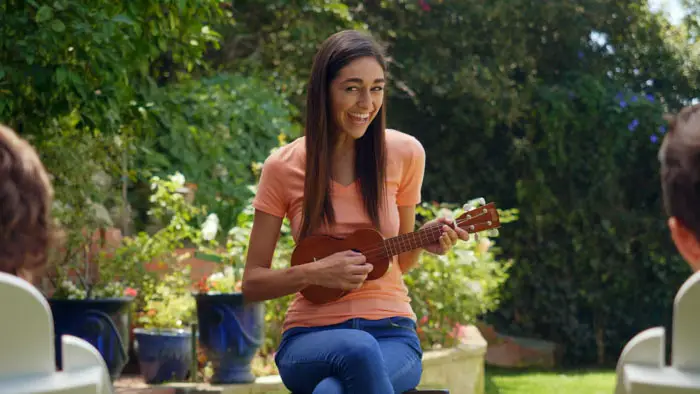 "…whenever Amber isn't in the room, Whalen, and Davis fight to determine who will be the one to stay."
So, for the longest time, it is unclear why Amber needs to complete these tasks before the men can conduct their business. But the last minute or two of The Take Out Move perfectly explains this away, ending with a truly hysterical punchline. This twist gives the action-comedy a tremendous amount of rewatchabilty, as it changes how audiences view every action Whalen and Davis take. It is pretty genius and very funny, though until it happens, there is that nagging voice in the viewer's head, trying to know they can't just take her out then and there. This might frustrate some — understandably so — but stick with it, and it will all make sense.
The action is good, though some of it is clearly rehearsed and not as natural as presumably intended. But, the fact that it is clearly the two male leads doing all this and the sheer goofy nature of it all easily overshadows such a minor nitpick. Simonian isn't afraid to get silly with the action, either. In one scene, he goes the 1970s, poorly dubbed Shaw Brothers route, with the lip-synching being a second or so behind the lip movements. The footage gets grainy, the score changes. It is so much fun.
Speaking of fun, the cast of The Take Out Move brings the funny in every way. Sless makes his character pretty likable, despite his hard stances on everything and his unsportsmanlike conduct ("Best out of seven!"). Grace brings a certain charm, making it easy to see why Amber lets him in so quickly. Miles takes what could've been a very annoying and vapid character (intentionally so) and makes her into someone whose zest for life is unequal. This allows everyone watching to root for Amber no matter how utterly absurd things get and kind of hope that no one takes her out.
Yes, the rationale behind certain decisions is unclear until the end. As such, impatient viewers might get annoyed or restless. But, if one sticks with it, The Take Out Move is a delightful, very humorous tale expertly brought to life by a talented cast and crew. Plus, the ending is too perfect for words!
"…the ending is too perfect for words!"