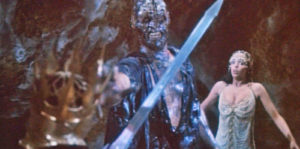 I'm powering my way through the career of fantasy/sci-fi innovator Albert Pyun. On deck is his first feature film, the Game of Thrones-esque classic, The Sword and the Sorcerer.
A long time ago in the country of Ehdan, King Richard (Christopher Cary) led his people and land to great prosperity, bolstering envy and jealousy in the neighboring kingdoms — among them was King Titus Cromwell (Richard Lynch). Needing an advantage in overcoming Richard's great forces, Cromwell resurrects the long-dead sorcerer Xusia (Richard Moll), and the two are victorious over the monarch's forces. However, in an act of treachery, King Cromwell kills Xusia and then turns on King Richard, but not before Richard passes over his triple-bladed sword to his youngest son, Talon (Lee Horsley), commanding him to avenge him.
Eleven years pass, and King Cromwell is the ruler, presiding over Ehdan with an iron fist. Prince Mikah (Simon MacCorkindale) and his sister, Alana (Kathleen Beller) — the children of King Richard's advisor, Mogullen — are preparing a rebellion against the evil king. During the final preparations, Cromwell storms in and captures Prince Mikah. Alana escapes and is eventually rescued by a returning Talon.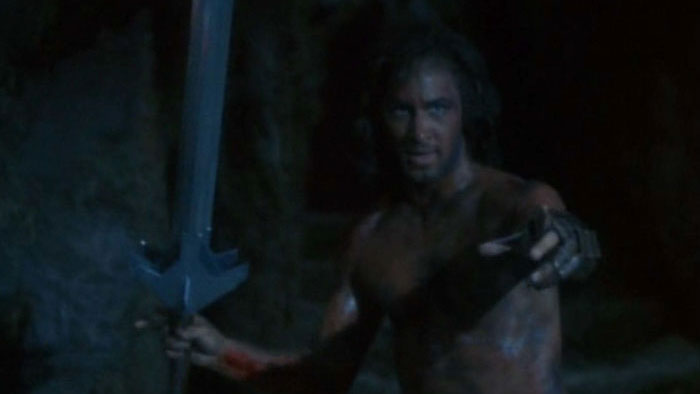 "…Richard passes over his triple-bladed sword to…Talon, commanding him to avenge his death."
Alana strikes a deal with Talon that she'll spend the night with him if he rescues Mikah. Yep, this is storytelling in 1982! With a mole in his ranks, Talon and Alana are captured by Cromwell. Talon is sent to be tortured along with Mikah, while Alana is forced to marry the king and make lots of babies (again, 80s storytelling). Remember the freshly re-killed sorcerer? Is a deceased formerly departed sorcerer ever really dead?
I've mentioned this before about the works of Pyun, but what I appreciate about him is his ability to create a big world on a modest budget. In Alien From L.A., Pyun takes us into an underground steampunk world. In Cyborg, we journey with Jean-Claude van Damme across a dystopian desert. And what can I say about Captain America? With The Sword and the Sorcerer, we're brought into a fantasy realm where Pyun builds elaborate castles and dungeons. But what's missing are the vast open battlefields we associate with medieval tales of yore. I get it. That stuff's expensive, but with clever camera angles, the bigness of the story is all movie magic.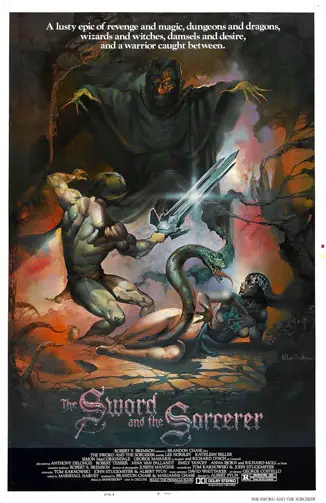 "…what [it] lacks in storytelling is made up for by pure adrenaline."