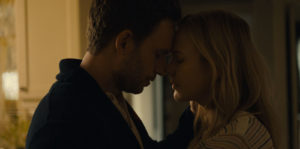 TORONTO INTERNATIONAL FILM FESTIVAL 2022 REVIEW! Director Lindsay MacKay's The Swearing Jar opens with a mellifluously sung litany of curse words bound to have any prim-and-proper types in the audience scrambling for the exits. The late, great George Carlin would surely be proud. But that unheralded salvo of tuneful profanity is just the first of many disarming moments in a rather lovely variation on cinematic romantic-triangle tropes.
Adapted by screenwriter Kate Hewlett from her stage play, The Swearing Jar is a seriocomic, quasi-musical tale of a happily married woman torn between her love for a doting husband and her complicated feelings for a charming new friend. That was a simple-enough description, wasn't it? It's pretty damned accurate, too. The thing is, though, that MacKay and Hewlett don't much seem to like simplicity in a tonal, emotional, or even structural sense. Their nimble and unusual approach to what at first appears to be familiar material is calculated to keep audiences on their toes. It allows for dramatic payoffs and a surprising thematic weightiness that cleverly builds and deepens throughout. The film pulls at the heartstrings but does so in ways you can never quite see coming.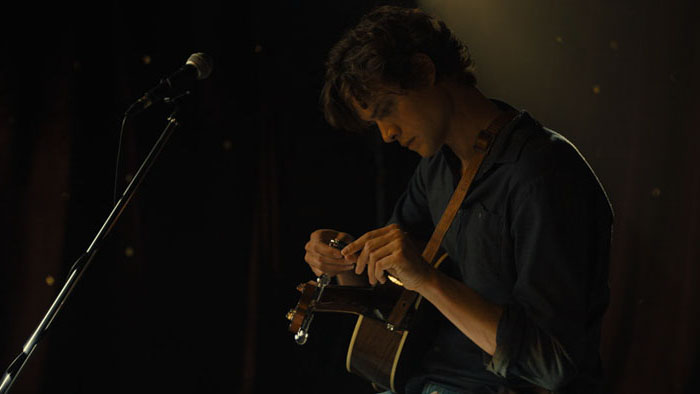 "…[he] is flirtatious with Carey in an aloof way, though he's oblivious as to why she keeps him at arm's length."
The story revolves around Carey (Adelaide Clemens), a high school music teacher and closet singer/songwriter who enjoys a genuinely warm and playful marital relationship with dashing novelist Simon (Patrick J. Adams). The film picks up on the day of Simon's 40th birthday celebration. Then it quickly flashes back to three years earlier, on an afternoon when Carey surprises Simon with a pair of unexpected announcements. One of them is that she's instituted a "swear jar" for their household; each time one of them utters a curse word, they'll have to contribute five bucks to the pot. The other is that, after a long and frustrating period of trying, she's pregnant. "Holy frickin' poop," Simon exclaims in what might be the perfect response to both.
The happy couple's preparations for life with baby are intercut with scenes of Simon's later birthday party, at which Carey performs a suite of acoustic ballads she's written – all of which seem to be loving paeans to their couplehood. But, again, nothing is quite so simple, and there's another storyline playing out in the midst of all of this. Carey wanders into a quaint independent book shop (conspicuously, one with stacks of Simon's novel on display) and unwittingly sparks up a conversation with the obviously smitten and endearingly awkward Owen (Douglas Smith). He's also an aspiring songsmith and is flirtatious with Carey in an aloof way, though he's oblivious as to why she keeps him at arm's length. Before long, their encounters at the bookstore grow into something more intimate.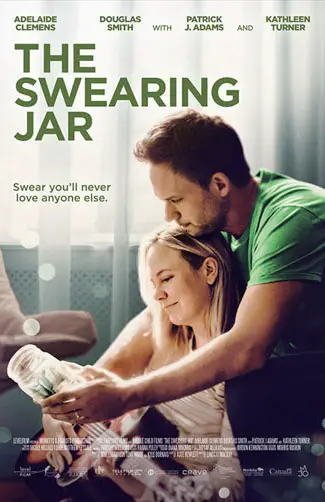 "…the rare movie romance that really benefits from knowing as little going in as possible."