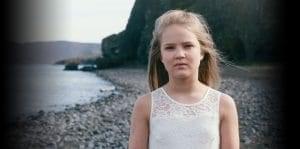 The breathtaking vistas of Iceland are seen quite frequently on screen – Game of Thrones shoots its north-of-the-Wall sequences there, for example, and the Icelandic countryside memorably stood in for Greenland in Ben Stiller's Secret Life of Walter Mitty – but it's not nearly as often that the alluring Nordic nation gets to play itself in a film.
Thus, while the sweeping, ethereally beautiful landscapes seen in Ása Helga Hjörleifsdótirr's The Swan are likely to strike a chord of familiarity with viewers, the film attempts to capture something that's less often explored in cinema: the true character of Iceland, and the way that it's so deeply rooted in those natural environments that so often serve as little more than visually lovely backdrops elsewhere.
Based on a 1991 novel by Guðbergur Bergsson, The Swan has the contours – if not, in most cases, the conventions – of a traditional rural coming-of-age tale, following a nine-year-old girl named Sól (Grima Valsdóttir) as she's sent away for the summer to live and work with her great aunt and uncle on their isolated farm. Sól is a quiet, not terribly happy-looking kid who loves the outdoors and makes up elaborate fantasy stories in which she leaves humanity behind to become one with nature. She's also got something of a dark streak, and indeed, it's because she's been accused of some petty theft that her parents ship her off to the country as a sort of punishment.
"…the film attempts to capture…the true character of Iceland, and the way that it's so deeply rooted in those natural environments…"
Some of the film's story is devoted to expected matters; Sól adjusts to the loneliness, drudgery, and – of course – freedom of living on a remote piece of land in a little-visited part of the country, experiencing things such as the miracle of a calf being born and, in turn, the horror of its eventual slaughter. However, The Swan is less concerned with the typical rhythms and struggles of farm life than it is with the emotional and psychological baggage that living so far from modern civilization – in a place whose beauty is always at odds with its harshness and seclusion – can engender. That theme is most prominently realized when Sól finds herself an observer of (and, occasionally, a bit of an interloper in) the outwardly contentious, secretly affectionate relationship of lower-class seasonal farmhand Jón (Thor Kristjansson) and Ásta (Þuríður Blær Jóhannsdóttir), the egotistical, troubled daughter of the farm couple, who's returned from university in the big city after splitting up with her boyfriend.
Well-acted all-around, with young Valsdóttir delivering a particularly striking turn in the lead role, The Swan remains intriguing throughout, the particulars of its family conflicts only half-glimpsed and not fully understood by its young protagonist and audience surrogate. But although Hjörleifsdótirr is masterful at creating atmosphere – balancing a lyrical, Terrence Malick-like evocation of natural beauty with an almost gothic sense of deep-seated foreboding – The Swan can also be frustratingly oblique, its big ideas and the way they fit together often feeling just out of reach.
"…the film is enthralling in the way it sidesteps obvious narrative tropes and dramatic payoffs…"
For a long stretch of its running time, the film is enthralling in the way it sidesteps obvious narrative tropes and dramatic payoffs – the unsettling situation of Sól sharing a bedroom with the grown-up Jón, for example, is thankfully not taken to its anticipated conclusion. By the time The Swan reaches its rather magical-realist conclusion, though, there's a sense that its most powerful themes haven't been fully addressed and, worse, that we don't know a lot more about Sól that we did at the outset. Where the source novel might have provided some more concrete access to the character's developing sense of the world and her place in it, Hjörleifsdótirr would rather render her experiences in poetic terms, and the abstractions eventually create distance between Sól and the viewer that prevents the film's resolution from hitting the emotional note that it should.
It's unfortunate that The Swan doesn't fully catch fire as a family drama or a rites-of-passage story, but a film with such a rich and finely honed sense of place is one that nevertheless deserves to be seen. This is Hjörleifsdótirr's feature debut, and it bodes well for a filmmaking career that's capable of illuminating a culturally fascinating corner of the globe on the world cinema stage – even those left disappointed by The Swan's narrative ellipses are likely to want to experience the beauty, mystery, and complexity of Iceland through her lens once again.
The Swan (2017) Written and directed by Ása Helga Hjörleifsdótirr. Based on the novel by Guðbergur Bergsson. Starring Grima Valsdóttir, Thor Kristjansson, Þuríður Blær Jóhannsdóttir, Ingvar E. Sigurdsson, Katla Margret Porgeirsdottir
6 out of 10