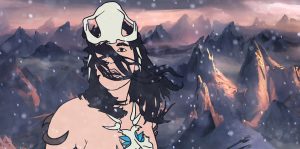 These issues make buying into the film's world harder than need be for the first 30 or so minutes. Adding a few minutes here or there to flesh out the world would make both the characterizations and the world stronger and more engaging. If The Spine Of Night were 2 hours, it'd be a full-blown masterpiece. As it stands, it's a damn enjoyable ride with some issues.
The acting does the heavy lifting the occasionally bumpy world-building fails to do. It is terrific fun seeing jovial stand-up Oswalt play a menacing, sinister character with such glee. Lawless ably breathes life into Tzod, making her desperate pleas to The Guardian that much more authentic and urgent. Grant sells his world-weary, troubled and tired soul believably, adding a sense of foreboding to the whole affair. As the big bad, Smith is truly frightening and scary.
"…will delight fans of hard fantasy, animation, or those who want to experience something unique and different."
However, what pushes Gelatt and King's movie to must-watch territory are the big themes and concepts they play around with. Anyone who seeks to horde knowledge for themselves is met with a grisly end. Ghal-Sur consumes most of the Blooms to gain more knowledge of the universe beyond his sight. That pursuit ravages the people, animals, and resources of the planet he lives on. The evil head of the Ashur wants to even fortify the books and ancient tomes from the commoner even more than they already are, and that leads to the destruction of his home.
The filmmakers also address modern living (well, this fantasy land's version of that) versus living in harmony with nature. Tzod best represents this, as yes, she controls her tribe's Bloom, but her ceremonies are for everyone to glean something from, and they're surviving perfectly fine until power-hungry lords come for them. The universe is not meant to be tamed but shared. This lesson is brought to a close beautifully with The Guardian's stories at the end. No spoilers, but it works marvelously.
The Spine Of Night exists in a rarefied category: a hand-rotoscoped animated movie. Happily, the entire cast and crew's dedication and hard work is evident throughout and pays off in the glorious visuals, brutal combat, and fast pace of the action. Despite some odd world-building hiccups, the film will delight fans of hard fantasy, animation, or those who want to experience something unique and different.
The Spine of Night screened at the 2021 SXSW Film Festival and the 2021 Fantasia Fest..