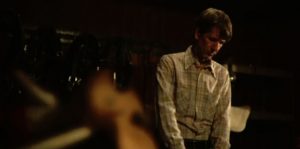 Based on a story by Horacio Quiroga, The Son is a short film in which a son goes on a hunting trip near his family farm. When he does not come back to the farm on time, his father frantically searches for him.
First off, after watching this short film, I immediately had to look up when this film came out. The production of it looked like something from the 90s from the grainy picture to the equally grainy sound. It turns out that it's actually not that old. It came out in 2007 but looks like it's straight from a VHS.
"…he does not come back to the farm on time, his father frantically searches for him."
As for the story, I'm not sure of how accurate The Son is to the original story of "El Hijo," but The Son is a heartbreaking story. The family suffers a lot of tragedy. The mother of the family apparently died in a car accident. The particular flashback scene in which details the mother dying is kind of questionable. The mother leaves the house, and literally maybe a second or two after walking out the door, you hear a car crash. I know this is a short film, but two seconds after walking out the front door, a person could not even get into their car or go out into the street within that amount of time. So the scene that is supposed to be tragic becomes almost laughable. And that goes for a lot of this short film.
There isn't much dialogue nor is there much acting, it's hard to say much about those particular things. But the acting that is presented doesn't seem believable. What saves this film (somewhat) for me is the ending. It is a pretty twisted ending that I didn't see coming. So it's a twisted twist if you will.
The Son (2007) Directed by Adrian Vallarino. Written by Maiana Bidegain, Horacio Quiroga. Starring Russ Kingston, Ryan Adkisson, Judy Ferro.
3 out of 10