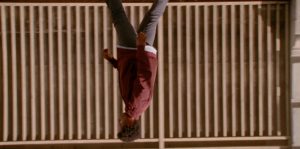 NEW TO THEATERS! Skinner Myers' The Sleeping Negro opens with James Baldwin's quote, "To be a Negro in this country and to be relatively conscious is to be in rage almost all the time." The Sleeping Negro is unlike your typical drama in that it has a dreamlike visual tone and style and is more an essay about the trials and tribulations of being black in America.
The story begins with Man (Skinner Myers) entering a meeting with his Boss (David Fumero). Man got his job through his fiancé White Woman (Julie McNiven), and if he wants to stay in good standing and excel at this job, Man must go through with an illegal act to save Boss' company. The shame that comes from Boss' request triggers an awakening in Man.
The film plays out as a series of encounters and spoken-word essays about rage, identity, alienation, and hopelessness. Man's Friend (Nican Robinson) comes to his apartment for a long, overdue conversation of estranged friends, which quickly turns adversarial when Friend admits he's a born-again Christian and a Trump supporter. Next, Man's fiancé comes over to prepare him as Man is about to meet his soon-to-be in-laws for the first time. Her visit escalates into conflict as she preps him into being presentable to her parents. Lastly, Man has a dreamlike confrontation with himself, who poses the question, "How long have you been a sleeping Negro?" as he engages himself in a game of Russian Roulette.
Serving as transitions from scene to scene are reflective essays from Myers. He talks about what it feels like to live in a country that is not his own and does not accept him. He discusses his struggles to find one's identity as a black man, and most poignant is likening his alienation to a game of solitaire.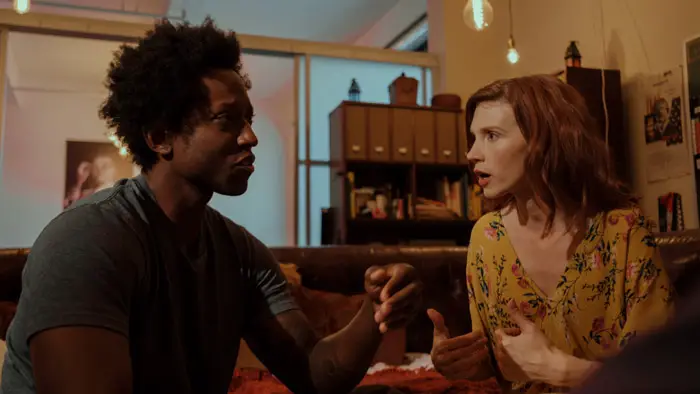 "…a series of encounters and spoken-word essays about rage, identity, alienation, and hopelessness."
I'm watching The Sleeping Negro being neither a white nor a black man. I was born in the States and lived my entire life often as someone always on the outside looking in. I've wrestled with identity, culture, and assimilation and quite frankly come to a different place in my own mind with my perspective of being "different" in my homeland.
I was quickly drawn to the arguments Man has with Friend and White Woman. These are conversations I've had with my white, Asian, and every other color of the spectrum friends as it pertains to getting over the past or this adamant belief one can be void of all forms of racism. What I appreciate about these confrontations is that it's far from one-sided. Opposing viewpoints are presented and well-argued.
What's most profound is that the speakers — Man, Friend, and White Woman — are highly flawed individuals, as we all are. It's as if the arguments exist not as a declaration of right and wrong in an angry rant but as a way to force us to find a point of sympathy and empathy. Make no mistake, The Sleeping Negro is about Black rage and presents it in a raw, reflective, and emotional manner that refuses to be dismissed.
In the end, there are no easy solutions. No magical wands that will make the problem disappear tomorrow, nor merely a matter of "getting over it." Skinner Myers effectively presents the issues so that the collective, global "we" must stop, ask questions, and wrestle with a very complicated problem. Though The Sleeping Negro presents no solutions, it does force us to take that first step.
The Sleeping Negro screened at the 2021 Slamdance Film Festival.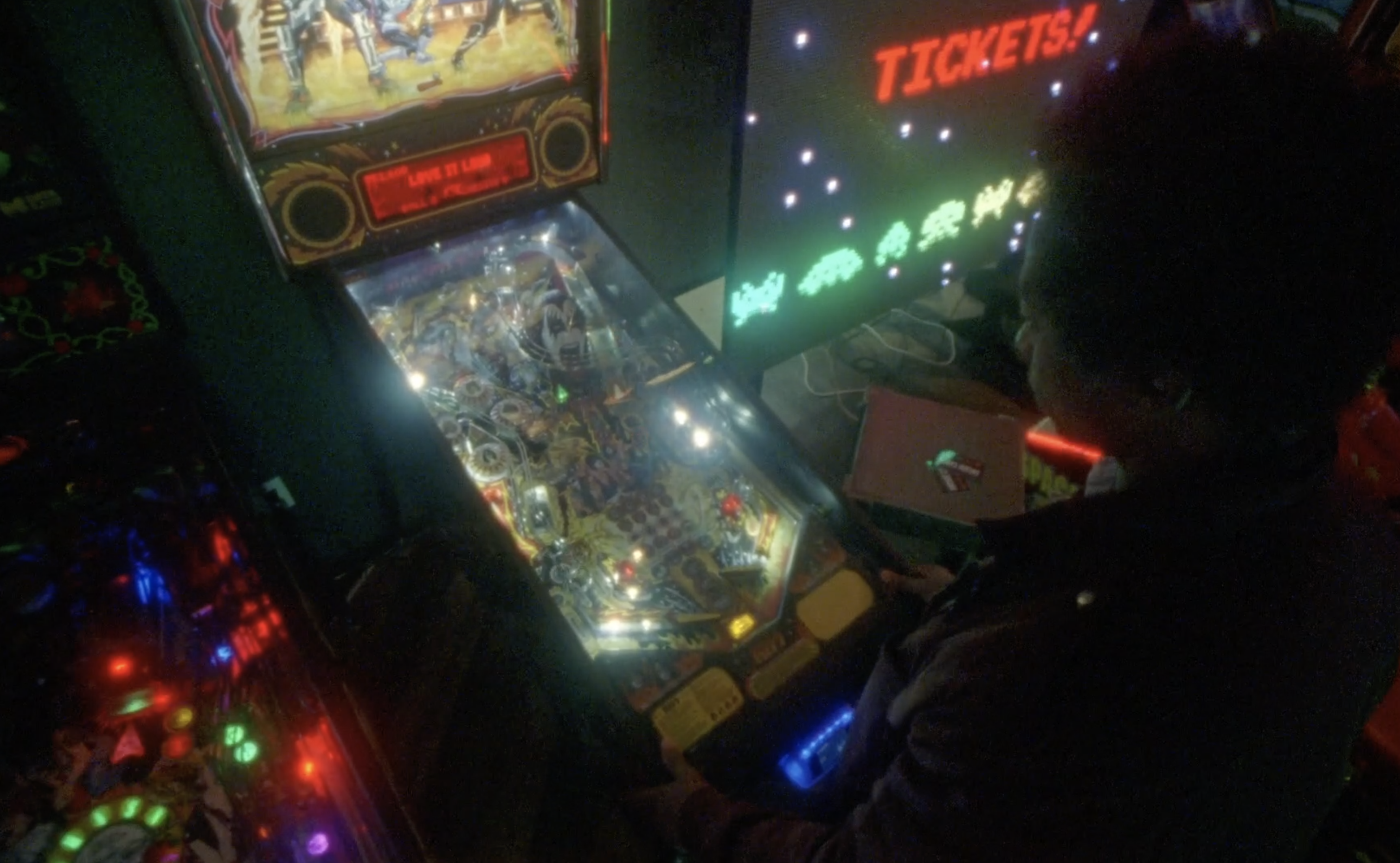 "…in the end, there are no easy solutions."