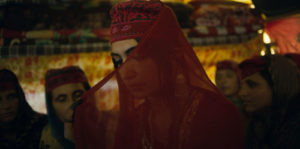 Set in Jammu and Kashmir, writer/director Pushpendra Singh's allegorical drama The Shepherdess and the Seven Songs immerses us deep into a little-known, beautiful yet tumultuous region with an enveloping mythical tone and remarkable folk music. Based on a short story by Vijaydan Detha and split into seven chapters, each a titular song (Song of Marriage, Song of Migration, Song of Attraction, etc.), the deliberately-paced film focuses specifically on the defiant Laila's (Navjot Randawa) plight. Unable to openly revolt against an oppressive regime, Laila resorts to more subtle methods of revenge – against both authority and men.
After she's basically forced to marry herdsman Tanvir (Sadakkit Bijran), Laila is subjected to a multitude of perturbations: scrutiny of identification papers; days spent performing monotonous chores; the open desire of several men. "I want you to roam like a tigress… absolutely free," one such man says while she valiantly attempts to ignore him. "Release your desire," Laila blankly tells her h***y husband in bed. "What are you waiting for?"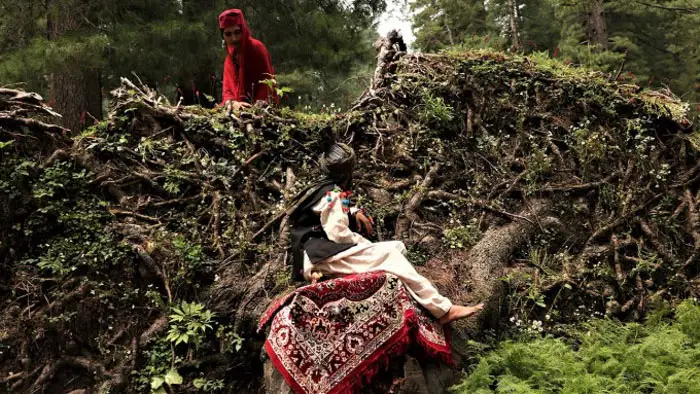 "…Laila resorts to more subtle methods of revenge – against both authority and men."
Crucially, Laila dazzles local ranger Mushtaq (Shahnawaz Bhat) with her beauty. When he crosses the line, she beats the lights out of him and his right-hand man, but then is told by Tanvir to shut her mouth and that she "should have behaved appropriately in the first place." If Laila starts a conflict with the security forces, the villagers are put under threat. She secretly starts seeing Mushtaq, stringing him along. Each time, Laila ensures that he gets busted by her husband – be it for stealing bananas or sheep – but each time, Tanvir lets him off the hook, giving away prized possessions in the hope that he will be left alone by government officials.
Steeped in tradition, The Shepherdess and the Seven Songs feels like a fairy-tale that deals with all-too-real events. Yet Singh ensures that the plot never veers too far into either surrealism or realism. At times, it feels overly calculated; at others, the disparate elements surprisingly gel: odd men chanting in a circle, entire villages belting out songs; a man having to pick up a heavy rock early on to prove his worth ("Only he who can pick up the stone can get the girl."). In the background, the Kashmir conflict unfolds, villagers are constantly harassed by the police, and women, of course, get the s**t end of the stick.
Aided by talented cinematographer Ranabir Das, Singh juxtaposes the stunning countryside – jaw-dropping shots of goats and sheep crossing the side of a gargantuan mountain – against the claustrophobia of being entrapped, within a regime, within a home. At one point, Laila raises dried snakeskin up against the sun, marvels at its beauty, then wraps it around her neck and walks off. The Shepherdess and the Seven Songs contains many such moments of scintillating, mysterious splendor yet doesn't entirely fulfill its lofty ambitions.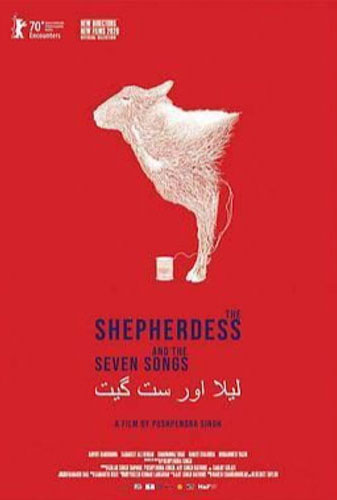 "…an enveloping mythical tone and remarkable folk music."