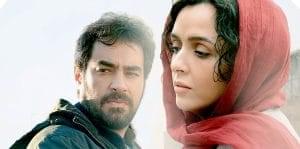 President Trump's travel ban may have helped tip Oscar voters toward Iran's official entry for Best Foreign Language film, The Salesman, but the movie itself is worth seeing because writer-director Ashgar Farhadi (who won another Little Gold Man for his terrific A Separation) comes up with stories that are both uniquely Persian and universal.
It's somewhat ironic that Farhadi and his leading lady Taraneh Alidoosti didn't make it to the Dolby Theatre because of the ban because Farhadi's movies are lousy propaganda for the regime in Tehran. A Separation demonstrated that a simple divorce wasn't so simple there, and the country's justice system doesn't look efficient, fair or effective in The Salesman.
The last time Farhadi won an Oscar in 2012, the regime initially celebrated and then backtracked when they discovered that Farhadi was more interested by the fate of people than in rigid ideologies.
I guess I should also mention that the movie begins with an apartment building collapsing as residents hurriedly flee the scene as if they're in an Irwin Allen disaster movie from the 70s. While Iran has many beautiful, ancient sites that have been constructed so well they're still standing after centuries, this contemporary housing unit isn't one of them.
For Emad and Rana Etesami (Shahab Hosseini and Taraneh Alidoosti), their newfound homelessness couldn't come at worse time. Both are starring in a Farsi production of Arthur Miller's demanding play Death of a Salesman, and Emad makes most of his living as a teacher at a boy's school. Hearing about their misfortunes, their friend Babak (Babak Karimi), who is also working on the play, lets Emad and Rana movie into a building he runs.
Their new home has a sordid history. The neighbors refer to the previous tenet as a "loose woman." Many of her belongings are still there, so her departure was probably not voluntary. The residents may be coy about referring to prostitution, but many of the tenant's previous clients apparently didn't get her forwarding address.
When Rana takes a shower, she buzzes in a visitor she thinks is Emad. When her husband gets home, he discovers that someone who used to frequent the place has brutally assaulted her. As she heals, Rana becomes despondent, and Emad turns understandably vindictive.
"Just as Miller's plays have been worthwhile exports, Farhadi's movies can help us better understand his culture and our own."
Going to Tehran's police is problematic, because the investigation could damage Rana's reputation even though she's done nothing wrong. Emad is understandably concerned that the authorities might be more interested in determining her virtue instead of bringing her assailant to justice.
The stress makes their time together increasingly combative, and both are too consumed by what's happened to function well at work. Rana freezes up and can't recite her lines, and Emad takes involuntary catnaps during his classes.
With what little spare time he has, Emad starts clumsily investigating the crime. The attacker left plenty of clues, but Emad's duplicity is oddly awkward for a guy working as an actor. As he gets closer to his target, it's easy to wonder if he's acting more to protect his fragile ego instead of his wife. He also discovers that justice and revenge are two very different things whether you live in New York or Tehran.
Farhadi paces The Salesman slowly, which can make getting through Emad's Death Wish-style vigilantism trying. Fortunately, it also makes the eventual payoff more powerful because we've seen how far this guy will go. The neighbors may like Emad and Rana because they are "cultured," but the two can still let their emotions lead them to do the worst.
Alidoosti should has been nominated with Farhadi because the film wouldn't work without how effortlessly she goes from being catatonic to distraught over what has happened to her and how it's changing her husband for the worse. While the sight of her assailant doing a perp walk would certainly feel good, it doesn't undo the crime, and the cost of vengeance could be higher than anyone involved can pay.
Some of my peers have wondered why Farhadi included the "play-within-a-film" of Death of a Salesman because its ties to the plotline seem tenuous. I find it intriguing because the production has to accommodate Iranian social standards while preserving Miller's ideas. Just as Miller's plays have been worthwhile exports, Farhadi's movies can help us better understand his culture and our own.
The Salesman (Forushande) (2016) Directed by Ashghar Farhadi Written by Ashghar Farhadi. Starring: Taraneh Alidoosti, Shahab Hopsseini, Babak Karimi, Farid Sajjadi Hosseini, Mina Sadati, Mojtaba Pirzadeh, Emad Emami, Mehdi Koushki
8 out of 10