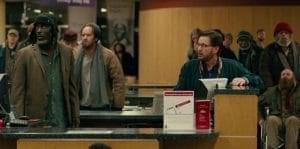 Writer/director/actor Emilio Estevez is clearly his father's son. In The Public, he's using this film as a platform for his political activism by bringing awareness to the problem of homelessness and the importance of public libraries as a vital part of a civilized culture.  And of course, if you don't agree with the film's message, you're a greedy, racist, capitalistic Nazi.
Emilio Estevez is librarian Stuart Goodman working at the prestigious Cincinnati Public Library. As Goodman arrives just before the library's open, he is greeted by the usual group of homeless men and women who use the library to clean-up, search the net, read books, and find warmth from Cincinnati's bitter cold spell.
This is not Goodman's day as he is pulled into a meeting with his supervisor Anderson (Jeffrey Wright) and city attorney Josh Davis (Christian Slater). Apparently, Goodman had days before asked a homeless person to leave the library because he reeked of body odor, thus denying that gentleman's ability to access the free services provided by the library and thus violating his civil rights.
"…a vocal group of homeless men discusses the possibility of staying in the library overnight because the nearby shelters have reached capacity…"
Clearly, under the bureaucratic thumb of city politics, Goodman finds support in his fellow librarian Myra (Jena Malone), who is at heart a liberal activist of liberal causes, and his neighbor Angela (Taylor Schilling), who might just be a good match for Goodman in the relationship category.