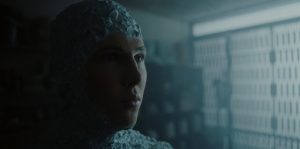 TRIBECA FILM FESTIVAL 2021 REVIEW! The Perfect David is about a high school bodybuilder, David (Mauricio di Yorio), who comes of age in his thoughts and sexuality. As the main outlet for the protagonist, bodybuilding's beauty and repulsive nature are all rolled into one here, and viewing it as an art form brings this pastime to another level of understanding. However, Argentine filmmaker Felipe Gomez Aparicio chooses a young adult to reveal how this type of desire, one of control, self-discipline, exists. He is the only one who can or cannot restrain himself from his desires.
The attention to detail throughout is mesmerizing especially paired with the score of mostly pulsating sounds in the horror vein, anticipating something awful on the horizon. The ominous beats are consistent with the repetition of David's constant lifting. It's as if he's is a ticking time bomb, oddly dangerous, if only to himself. There's a lifelessness to David, almost in direct opposition to his bodybuilding obsession. He seems to keep himself in solitude, and he is eerily quiet, except for grunts from lifting and answering questions others ask in as few words as possible.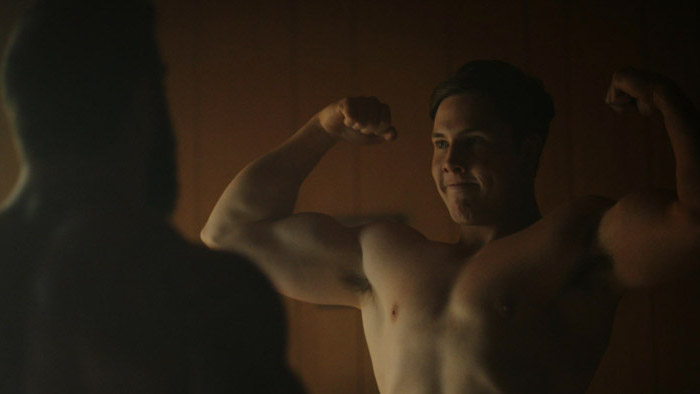 "…a high school bodybuilder…comes of age…"
The Perfect David, on the whole, is about control and discipline on every level. There is control to the most itty-bitty sound of David performing his daily morning ritual of arm curls and in the slightest movement of weights as he lifts and lowers. His controlling, perfectionist mother — well-known multidisciplinary artist Juana Galucci — whose persistence to make him in the likeness of Michelangelo's "David" is even more peculiar, as she is a famous sculptor and uses his form for her work. She covers him so intently with her molding material that he has to breathe through his two nostrils — another type of control and obsession. Her control is kept in check but nonetheless overbearing and sharp.
David is constantly being measured and sized up. As a teenager, his friends are typical boys with non-stop sex, shock chatter conversations, with each measuring their potential conquests. Of course, David is exploring his sexual desires as well, leaving him in a state of bizarre confusion. There's a young girl, Mica (Antonella Ferrari), whom he likes, and he is able to show off his physique to his friends and his strength, but he has no control over them or himself when it comes to normalcy. David takes his bodybuilding further to please his mother for her art, but also to be connected to something he works so hard to do, but it's painful in many ways.
The Perfect David is a dark film. From his bodybuilding to his mother, trainer, and friends, David's relationships leave you unsettled and suspicious. There's a great deal of muscle-flexing and a very little conversation, but director and co-writer Felipe Gomez Aparicio, along with co-writer Leonardo Custo, provide enough intensity to linger in your thoughts beyond the screen.
The Perfect David screened at the 2021 Tribeca Film Festival.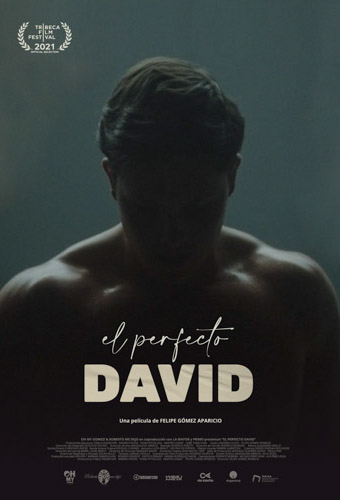 "…[it will] linger in your thoughts beyond the screen."