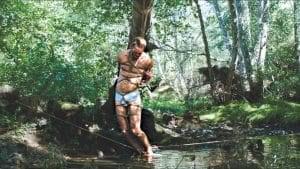 The films of the Portuguese director João Pedro Rodrigues are usually cleverly mounted to pique curiosity, even if the accessibility of the challenging narratives is sometimes limited. I found To Die Like a Man a worthy experience, regardless of its flaws, and was even more impressed with the mournful The Last Time I Saw Macao.
His new drama, The Ornithologist, raises the level of abstraction when compared to the previous tales, but still comprehends homosexual connotations, crime, and mystery. What is different here is a pronounced surrealism where the contemplation of nature mixes with religious symbolism and folklore elements to form a puzzling peregrination toward a spectacular Christian conversion.
"Is this a bad dream or demonic reality?"
The crisp images are deliberately protracted to make us absorb every single detail in the devious path of Fernando (Paul Hamy), an ornithologist who is rescued by two female Chinese pilgrims after his kayak has been dragged by the force of the river. The two disoriented women, Lin (Chan Suan) and Fei (Han Wen), were doing the religious route of Santiago de Compostela in Spain, but got lost, ending up in Portugal, close to the border between the two countries.
The Chinese pilgrims affirm to be haunted by Tangu – the spirit of the forest – and start acting strangely while asking for Fernando's protection and guidance to return to the right trail. I couldn't have been more surprised when Fernando, a positive agnostic, awakens tied to a tree, deprived of his priceless freedom. Under a cursing spell, the women talk about castrating him on the next morning, but he was lucky enough to escape before dawn.
With no map and no ID, and carrying a useless cell phone, Fernando embarks on a series of bizarre experiences that includes being followed by a white pigeon, witness an ominous folkloric ritual, and having odd encounters with a young deaf-mute shepherd named Jesus (Xelo Cagiao), with whom he involves himself sexually, and three mythical Latin huntresses on horse.
Along the way, we learn that Fernando's mental health depends on some pills whose bottle got out of his sight. Is this a bad dream or demonic reality? The impertinent presence of an owl annunciates further oddities.
"With no map and no ID, and carrying a useless cell phone, Fernando embarks on a series of bizarre experiences…"
Amidst heavy symbolism, punctilious allegory, and religious metaphors, the mystic tale loses a bit of direction somewhere in the middle, before Fernando rebirths as Anthony (director's cameo) and return evangelized to the civilization, hand-in-hand with Jesus' twin brother, Thomas.
With an approach that borrows a few stylistic constituents from Thai director Apichatpong Weerasethakul, this is all about belief and self-discovery.
The adventure can be as much tortuous as the paths of faith itself and yet sin and repentance are not taken seriously here. Some viewers will find The Ornithologist pretentious and philosophically boring while some others will see it as an avant-garde cult film of haunting expression. It will all depend on your openness and state of mind.
The Ornithologist (2017) – Written and directed by João Pedro Rodrigues. Starring: Paul Hamy, Xelo Cagiao, Chan Suan, Han Wen.
7 out of 10