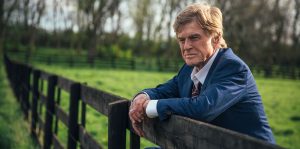 Robert Redford has never been the most impressive actor, especially when put up against his contemporaries. Whereas actors like Dustin Hoffman and Al Pacino always felt like character actors who slipped through the cracks and achieved leading-man status, Redford clearly had the build of a "movie star." David Lowery's retrospective The Old Man & the Gun knows this and takes full advantage of Redford's straightforward, pretty-boy naivete.
Redford plays Forrest Tucker, a Texas-based bank robber who isn't in it for the money or the thrills. Just why he does rob banks is a question I'll not explore here, but it is a discussion the movie invites. As an audience, we've grown accustomed to what a bank robbery is supposed to look like: characters roll out a blueprint of the bank, one person stays in a car, someone shoots the ceiling and the countdown to the cops' arrival begins. They're usually built on the tense anticipation of potential violence. But Tucker's technique is quite different. He strolls into the bank—all smiles—slides the teller a note and opens his jacket to reveal a gun, which is always slightly out of frame, to emphasize Tucker's mastery of heuristics. After he gets his money, he strolls out in the same way he strolled in, using a phony hearing aid as a police scanner. When the tellers are eventually questioned by the police, all they can say of the robber is that he was "smiling" and "a gentleman."
"…a Texas-based bank robber who isn't in it for the money or the thrills."
In the midst of a getaway, Tucker stumbles across Jewell (Sissy Spacek) and utilizes her as a natural piece of camouflage. However, their relationship quickly progresses from there—not in an amorous way, but in a companionate way, as is more likely for old folks with 20/15 hindsight. Through Jewell, we come to recognize Tucker as a man who hasn't the slightest interest in fighting his own nature, but, rather, upholding the values set in stone long ago by his younger self. Despite his age, he's unable to look anywhere but forward. When Jewell alludes to the fact that he might not have much time left, he doesn't understand what she means. These interactions are where the movie drops its emotional anchor, as they're where the fun stops—for the audience and Tucker—and introspection rears its ugly, but ultimately a gratifying head.
Whereas Tucker views his age as nothing more than a handy bit of sheep's clothing, the cop on his tail, John Hunt (Casey Affleck), has just turned 40 and finds himself over the hill without having been to its peak. As you might imagine, this puts Hunt in a perpetual state of mid-life depression, until he finds the purpose he needs in the chase for Tucker. This dynamic is ultimately symbiotic, for just as much as Hunt needs something to chase, Tucker needs something to escape from.
"…like a Sunday drive with your own thoughts, where you get some good thinking done…"
Tucker's crack team of criminal cohorts are played by Danny Glover and Tom Waits. Waits fans will be glad to know that some time is carved out for one of his famous, rambling tall tales that seem like shaggy-dog stories until stamped with a punchline. If Lowery wrote this, good for him, but it sounds like it was appropriated from Waits' act.
The no muss, no fuss approach to armed robbery taken by Tucker is adopted by Lowery for filmmaking purposes. With its gentle, jazz-laced soundtrack, the movie is never in any rush, nor is it terribly concerned with making any bombastic statements. Lowery opts for something lighter, where even the melancholy moments are more meditative than miserable. The movie feels like a Sunday drive with your own thoughts, where you get some good thinking done, even if you don't come to any lasting conclusions.
If you feared The Old Man & the Gun would be just another farce where old people engage in shenanigans unbecoming of their age, rest easy. It's firmly in the family of films like The Shootist and last year's Lucky, in that it distills a movie veteran's record into one last story, with all the love and respect you'd hope for. Anyone remotely familiar with Redford's career will notice a few winks, nods and, yes, touches of the nose.  
The Old Man & the Gun (2018) Directed by David Lowery. Written by David Lowery and Based on the New Yorker Article by David Grann. Starring Robert Redford, Casey Affleck, Danny Glover, Tika Sumpter, Isiah Whitlock Jr., John David Washington, Tom Waits, Sissy Spacek. The Old Man & The Gun screened at the 2018 Toronto International Film Festival.
8 out of 10