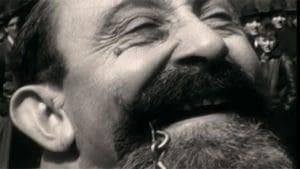 Steven Greenstein's film about his father, Joseph Greenstein documents the life of a man who started as a sickly tubercular child and wound up as a famous strongman performer who built a career out of amazing feats of physical strength as The Mighty Atom.  
I have always been fascinated by sideshow performers and with collections like Ripleys Believe it or not! I avidly read the comic strip as a kid and one of my most cherished childhood memories is of visiting the Ripley's museum in St. Augustine, FL. It's the usual morbid curiosity, but also I'm interested in people who identify as other than ordinary. The Mighty Atom is a great example of a person who devoted himself to continuously improving his act and never wanted to live an ordinary life.
"…devoted himself to continuously improving his act and never wanted to live an ordinary life."
He was not a large man, certainly muscular, but small which added to the surprise that he could bend metal bars with his teeth or drive nails with his hands. He was also noteworthy for proudly proclaiming his Judaism during a time when nazism was rising, and even took on American nazis when a fight was called for. He often wore a Star of David on his costume when he performed and was religiously observant in his home life.
The film has trouble settling on a direction, driving down two contradictory tracks:  on one hand there's the sideshow pitch that the feats of The Mighty Atom demonstrated that he had preternatural strength.
On the other hand the film goes beyond simple biography into new-age self-help asserting that anyone can be trained to do the same amazing acts if only one is willful enough to overcome physical pain and self doubt. Greenstein did in fact teach his sons the strongman game and eventually created a family act. Director Greenstein presents several contemporary strongmen who have learned the techniques used by his father and also wanders back over the old eye-popping Ripley-esque tales of people demonstrating superhuman strength in emergencies, the common apocryphal example being a woman lifting a car off her baby. 
Joe and his sons and fans repeat endlessly the mantra of self reliance and determination. This, I suppose, is effective in overcoming personal internal barriers, but they don't betray even the slightest awareness of the ridiculousness of an idea like "you can do anything you set your mind to."  No winking and there's no indication that they mean it allegorically. Not to be too much of an a*s but everyone seems to ignore the fact that the elder Greenstein eventually did succumb to cancer at age 84. Even the indomitable spirit of The Mighty Atom could ultimately not resist mortality.
"…performing feats of strength for the patients in the hospital up until the hour he died…"
The director shows deep affection and admiration for his father but there's something everyone interviewed is trying very hard not to say, alluding to Joe having a dark side and that he insisted everything bend to his will as iron bent to his hands. Was he a philanderer? Was he abusive to the family (that seems unlikely)? It's clear there's more to the story. 
Greenstein leaves us with a remembrance of his father performing feats of strength for the patients in the hospital up until the hour he died, intended to inspire confidence and strength of will to the other people battling illness. Perhaps, though, it was more an insistent narcissism that drove him? Perhaps he needed the applause until the final curtain fell?
Mentioned in the trailer but not in the film is a fascinating event that sparked his interest in being a performer: Joe Greenstein had a co-worker in Texas who became obsessed with his wife and tried to kill Joe by shooting him at nearly point blank range between the eyes. The bullet failed to penetrate his skull and he recovered without incident. There's more to the man's tale than this film is telling and that could prove to be a much more interesting story than this drumbeat of positive affirmation in a mildly entertaining biography.
The Mighty Atom (2017) Written and directed by Steven Greenstein. Starring Joseph Greenstein.
5 out of 10