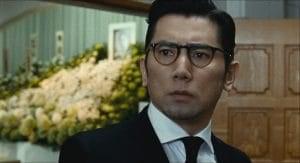 Japanese filmmaker Miwa Nishikawa (Wild Berries), whose career started under the tutelage of the acclaimed Hirokazu Koreeda, adapts her own 2015 novel, The Long Excuse, to the big screen with favorable results. The drama stars Masahiro Motoki (Departures) as Sachio Kinugasa, a successful writer too centered on himself to pay attention to his affectionate wife, Natsuko (Eri Fukatsu). She is a hair stylist who supported him when he most needed and always encouraged him to follow his dreams.
However, their 20-year marriage is going through a terrible phase and keeps deteriorating. With a circumspect sequence of close-ups, Ms. Nishikawa reinforces the state of mind of the couple right in the first scenes. While giving him a haircut, Natsuko heartily summons up agreeable moments of the past spent in his company, but she only gets indifference and bitterness back.
"On one side, there's social status, vanity, and pretentiousness…"
Sachio's life will make a U-turn when his wife suddenly dies in a bus accident in the company of her high school best friend, Yuki (Keiko Horiuchi). The fatality occurs when Sachio is at home fooling around with a younger woman, a student who immediately understands that his ego is too large for him to worry about the loss. Conversely, Yuki's modest husband, Yoichi (Pistol Takehara), falls into a spiral of tears and despair.
Unexpectedly, his soul goes through a complete metamorphosis when he gets closer to Yoichi's two children, Shinpei (Kenshin Fujita) and Akari (Tamaki Shiratori), who are temporarily entrusted to him so that their father can work overnight. Sachio was impressed with and compassionate for the highly sensitive Shinpei when he discloses he won't be attending school anymore. Happy about finally doing the right thing, he undertakes the mission of helping the kid with the studies while also watching for his lovely little sister.
"On the other, modesty, honesty, and transparency…"
Well, he had no idea how many simple yet precious things he was about to learn from these kids, including exteriorizing feelings and opening his soul to others.
Besides the humane side of the story, the film also focuses on the gap between social classes by putting Sachio and Yoichi on different sides of the fence. On one side, there's social status, vanity, and pretentiousness. On the other, modesty, honesty, and transparency.
Even resorting to some sentimentality, The Long Excuse reached me in the way it treats camaraderie, personal growth, and family ties with sagacious integrity.
Hence, the quibbles found in Nishikawa's directorial procedures have almost no expression when compared to the message conveyed. And it feels so good seeing someone who became stuck moving on.
The Long Excuse (2016) Written and directed by Miwa Nishikawa. Starring: Masahiro Motoki, Pistol Takehara, Eri Fukatsu, Kenshin Fujita, Tamaki Shiratori.
7 out of 10