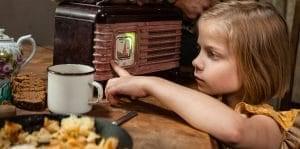 Leelo Tungal is one of Estonia's most beloved authors. Moonika Siimets' film The Little Comrade is based on two of Tungal's autobiographical novels: Seltsimees laps ja suured inimesed (Comrade Kid and the Grown-Ups) and Samet ja saepuru (Velvet and Sawdust), which are based on memories from her childhood in Stalinist Estonia.
In the midst of 1950's Stalinist fear and oppression, six-year-old Leelo's (Helena Maria Reisner) mother Makajeva (Maria Avdjushko) is sent to a prison camp. Leelo has little understanding of the politics or the perils of her time. When her mother tells her to be a good kid while she's gone, Leelo takes this to heart to become the best Stalinist she can. Her father Feliks (Tambet Tuisk) calls her "little comrade."
It is fascinating that tyranny is rarely very creative, generally expressed in the same type of control by fear wherever it rises up. The differences in the situation come from the character of the people dealing with it. Estonia was a free, independent, and neutral country until 1939 when Hitler and Stalin made an agreement to carve up Eastern Europe, giving Stalin control over Estonia, Lithuania, and Latvia. The soviet regime embarked on a program of executions and prison camps for anyone deemed a threat.
"…Leelo has little understanding of the politics or the perils of her time…"
Leelo's mother is a teacher who showed a bit too much Estonian pride in a time when anyone with an ax to grind could turn their neighbors in, she gave offense to the wrong small minded person who reported her. A search of her belongings turns up too many Estonian nationalist artifacts, and she is taken.
Feliks does his best to keep life and limb together to provide Leelo a childhood under the shadow of her mother's imprisonment, never certain when or if Makajeva will return.
Incredibly gifted child actor Helena Maria Reisner gives a moving performance as Leelo. Siimets directs the film artfully, with great respect for the material. The countryside of Estonia is beautiful, and yet again film transports us to a time and place removed from our own experience we otherwise would never know.
The Little Comrade (2019) Written and directed by Moonika Siimets. Starring Tambet Tuisk, Helena Maria Reisner, Yuliya Aug. The Little Comrade screened at the 2019 San Francisco International Film Festival.
9 out of 10