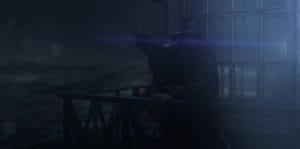 Based on real events which saw two lighthouse keepers stranded for months at sea in a freak storm, the film tells a tale of death, madness, and isolation; a desolate trip into the heart of human darkness.
Trapped on a tiny speck of an island, 25 miles off of the Irish coast, isolated by an unrelenting storm, two lighthouse keepers fight to maintain their sanity in Chris Crows recent effort. Based on real events, from a script by Crow and screenwriter Paul Bryant, The Lighthouse turns inward, exploring the character and mental states of the two men charged with keeping the beacon lit for ny passing vessels. The psychological drama that plays out is a well-produced piece, clean and effective at times, yet it somehow lacks the inventiveness to transcend and become something far more.
The year is 1801. Thomas Howell (Michael Jibson) is ferried out to Smalls Island,  a miniscule outcropping of rocks miles from the shore that holds a wooden lighthouse. Already a resident of the structure, grizzled Thomas Griffith (Mark Lewis Jones) welcomes his new companion with a sour look of disdain and a few directional grunts here and there. Thankfully, Old Thomas we'll call him, begins to loosen up by letting his co-worker know rather tersely that he can't so much as fish from the rocks for fear of being seen by their bosses should they stop by. It's all about keeping the lighthouse on, and functioning for the safety of any possible ships passing by.
"…isolated by an unrelenting storm, two lighthouse keepers fight to maintain their sanity…"
While Old Thomas clings to the mechanical duties of maintaining safety and order, despite being drunk half of the time, Younger Thomas is running from his own demons. Old Thomas hits the bottle, Young Thomas hits the bible. The two converse, sing, brood, and repair the structure to pass the time, but then the storm comes. The storm that traps the two men in the closest of quarters not only tears at the building they are in, but at their mental state as well. This should work better than it does in this instance, yet somehow things are just adequate.

There is a lot of good work to admire here to be clear. The two leads, well, the only two characters of any importance, are played wonderfully by Jibson and Jones. The two actors seem to pull effortlessly from a wellspring of raw emotions and mental instabilities and, in doing so, keep things watchable. The movie looks great. Dreary greys and the stark tones are a lovely backdrop to play the welling interpersonal and psychological storms against. That is a testament to the production design that is on point, coupled with the fine performances and thundering sound design.
"…actors pull effortlessly from a wellspring of raw emotions and mental instabilities…"
Still, the movie lingers. No, a slower paced movie isn't an issue. Methodical pace can be used to great effect when done properly. (See Hereditary). With such freedom to extrapolate what might have happened on this fateful island on that fateful season, It would have been more interesting to see these two attempt to maintain sanity and their jobs as their world crumbled around them. The minute Younger Thomas steps off the boat, we know that the two aren't even close to chums, much less a conversation. There had to be a moment or two back in the day where these two guys were laughing and getting along, albeit briefly.
The Lighthouse doesn't shed anything new on the pressure cooker, psychological drama, but it is a pleasure to see Crow's talents continuing to evolve from Demon Bridge to now. Keep them coming. Take the risks. We can't wait to see what you have coming next.
The Lighthouse (2018) Directed by Chris Crow. Written by Paul Bryant, Chris Crow. Starring Mark Lewis Jones, Michael Jibson, Ian Virgo
5 out of 10