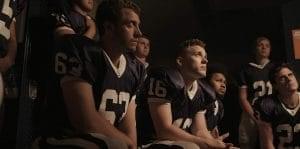 The Last Whistle follows high school football Coach Victor Trenton (Brad Leland) in his quest for a championship and a prestigious new position with a name-brand college team. Unfortunately, his blind ambition and old-school zeal for authoritarian discipline have tragic repercussions. Playing more like an episode of television than a movie, director Rob Smat delivers a very solid and concise film
To make a sports film, say you have a tightly crafted script for a compelling high school football drama that examines the risks involved when the drive to win intersects the human cost of pushing too hard. Let's posit further that you have an appreciation for the genre of independent film and a small budget to match. It's pure speculation to wonder if  Smat is familiar with Peter Berg's Friday Night Lights  (based on Buzz Bissinger's book Friday Night Lights: A Town, a Team, and a Dream). Creating a genre in one pass, it's one of the finest indie high school football films ever made. It's near-perfect vibe as a low-budget, high-quality film about a small town is beyond reproach. It's not a stretch to suggest perhaps Smat is familiar with and was influenced by it. 
What if you cut and pasted the stylistic elements of Friday Night Lights and plopped your script right in the middle of that context?  Throw in a small part played by celebrity LSU coach Les Miles (who seems to be really enjoying his post-coaching career as an actor), and the result is The Last Whistle. 
The parallels are more homage / adherence to genre than appropriation, but it is striking how similar they feel. The driven coach with a Southern accent. The star Black player who gets injured. The town turning against the coach. Even the soundtrack features familiar pensive guitar riffs to fill in the lulls and transition the scenes. 
"…concerned more with the experience of Coach Trenton than the players, families, or the game…"
A text card near the beginning of the film informs us that this is an issue-oriented movie: shedding light on young players being hurt by reckless training in high school sports. Ultimately, however, The Last Whistle drifts from that core concept and is concerned more with the experience of Coach Trenton than it is the players, families, or the game. That might seem an odd choice, but Leland is the strongest actor in the cast, and he is powerful in the role. 
The odds are, when you borrow heavily from a great movie, you're probably going to produce at least a pretty good one unless you screw up, which Smat did not. His actors deliver mighty performances. Les Miles playing the barroom instigator, Billy, is good, and it's a lot of fun to see Coach Miles in that role. 
The Last Whistle (2019) Written and directed by Rob Smat. Starring Brad Leland, Jim O'Heir, Les Miles, Deanne Lauvin.
6 out of 10