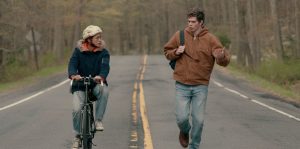 The Half of It is a heart-stealing coming of age film where the bright but feisty Ellie Chu (Leah Lewis) discovers love from afar. Director Alice Wu offers a brilliant 21st-century twist on the classic tale of Cyrano de Bergerac with humor, insight, tenderness, and beauty to tell this romantic, eccentric tale of epistolary love.
Ellie, who cares for her father at home, bikes to school every day no matter the weather, conducts an underground writing business for her classmates, and practices music. It is as the audience observes her life, day in, day out, that they realize Ellie is gay; it is subtlety handled. When football player Paul (Daniel Diemer), an athlete with a huge heart, hires Ellie to help him proclaim his love for the most beautiful girl in school, Aster (Alexxis Lemire), Ellie's own feelings are thrown into sharp relief.
As for Aster, she feels misunderstood and is questioning her sexuality. This new writing challenge takes Ellie out of her comfort zone, and the intense emotionality of it all sweeps her up. Smart and caustic, Ellie can brave most anything but is repressed by her Chinese heritage and an incapacitated father, so her underlying despondencies keep her reserved. Yet, when writing, she nails it. Her expression, wit, and curiosity, provide hope and the potential of fulfillment without being "screwy."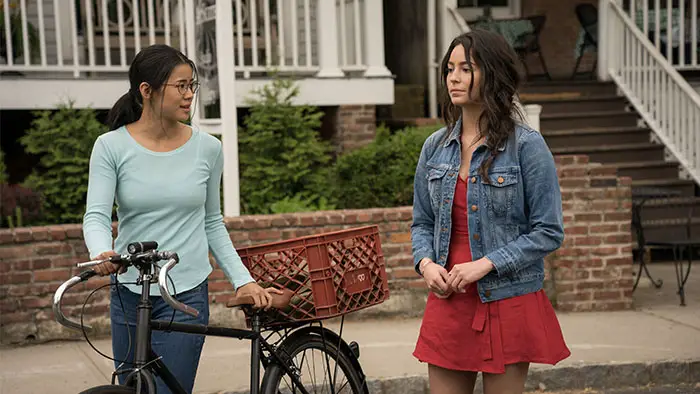 "…football player Paul…hires Ellie to help him proclaim his love for the most beautiful girl in school…"
Adding to the indie film spirit and Northwest eccentricities, Ellie's organ playing at the local church where all gather, except her father, gives divine intervention a whole new meaning. As this story of love found, lost, questioned, and re-examined plays out, along with other small-town humorous elements, it's understood that everyone needs change—although such a thing is always a tough pill to swallow when it's an affair of the heart being human or invention.
Wu effectively uses the town of Squamish, Washington, as another character in all its Northwest splendor with hot springs, clouds, and all. The Half of It delivers a message of unspoken understanding, of unity and finding one's other half as a quest since the idea of love has been acknowledged as a part of the human existence. Wu's use of philosophical meaning and influences from Camus, Sartre, and Plato, all the big thinkers, who at some point questioned and pondered relationships and the spirit of the heart, will delight all the intellectuals in the audience. Add in the fabulous soundtrack of indie music along with selections from John Denver and Gordon Lightfoot, plus classic film clips of love, and you can't help but get mushy.
Commitment to her differences and her sense of being and existence from ghost texting and being the voice of love for Paul, Ellie is non-stop with her spicy humor and intelligence, which is ultimately heartwarming. Wu leaves no stone unturned for metaphor and meaning as she hits all the coming of age themes in a natural, tender way. The Half of It is a timeless classic in an era of uncomfortable change and existence.
The Half of It is streaming on Netflix.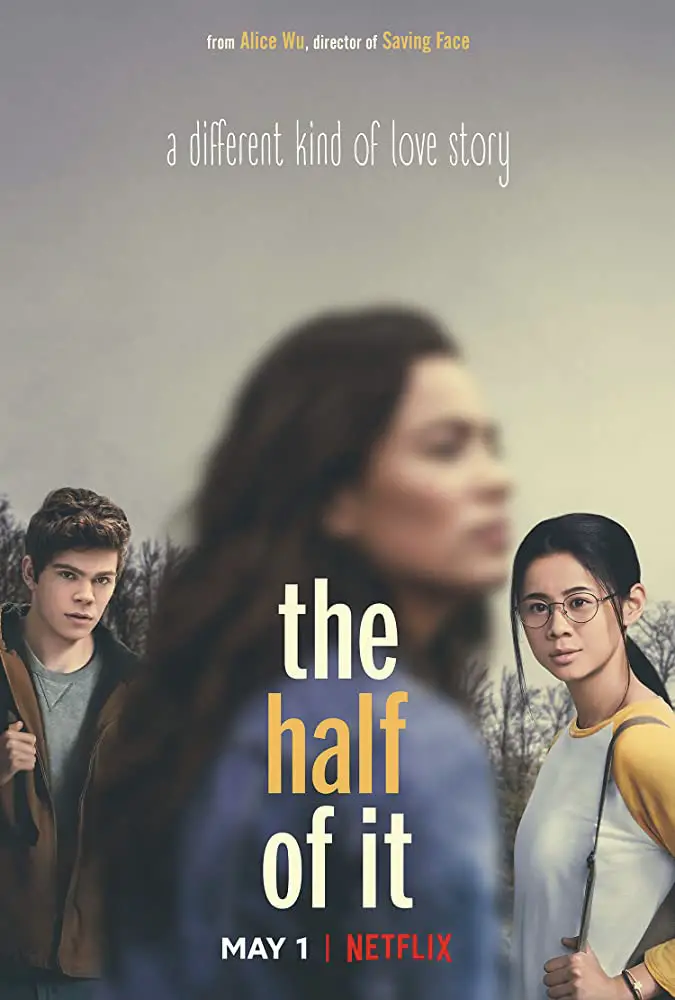 "…a brilliant 21st-century twist on the classic tale of Cyrano de Bergerac..."