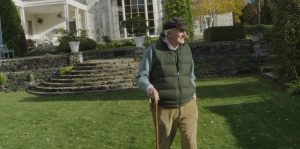 Early on in The Gardener, one observer attempts to explain Frank Cabot's penchant for creating and developing the expansive, sumptuously detailed garden at his estate, Les Quatre Vents, in Quebec, Canada. "Geniuses are a little mad," she says. "If he hadn't had a lot of money, you might have said he was."
Cabot, who he died in 2011, was a member of the Boston Brahmin clan that made its fortune in the shipping industry and saw some of its numbers go into politics, with U.S. senators and American ambassadors among them. Frank moved his brood to Canada after an unsuccessful foray into the New York business world, making it their summer residence.
"…created 24 individually designed oasis of nature on 20 acres of land…"
He discovered that gardening was more to his liking, and over the years created 24 individually designed oasis of nature on 20 acres of land, developing what he called a "sensual and emotional" experience for the viewer. With its abundance of fragrances emitted from flora, and the sounds of wind sweeping through branches, leaves, ferns and other plantings, the goal was that of total sensory immersion.
Cabot obviously saw himself as an artist and was as dedicated to his garden as any sculptor would be to his or her creative output. He had buildings constructed, and he designed gardens around them, including a pigeonnier — a tall, narrow structure meant as shelter for pigeons — and a Japanese teahouse. The teahouse proved an especially involved process, requiring that appropriate wood to be located and cut, then dried for two years. When it was sufficiently dry, the wood had to be shaped and joined, which took another two years. Finally, the assembly process required three summers to complete.
"…try watching it from a lawn chair with a cool mint julep…"
If the film shows us one thing, it's that Cabot's grand vision, and the money he apparently poured into his work, sets him apart from a run of the mill weekend gardeners. We're treated to a taste of what must be a lot to take in one viewing. Rather than try to walk the audience through the entire 20-acre parcel, The Gardener shows us around various spots on the property, including the Chinese "moon bridge," so called because the bridge's semi-circular shape makes a perfect circle with its reflection in the water below. Cabot and others comment on the development and upkeep of the vast, manicured space situated atop a hill, which offers striking views of the countryside below.
Like the garden itself, the film is nice to look at, but beyond its eye-candy appeal, it's decidedly light fare. Botanists and flora enthusiasts will undoubtedly find a lot to like about The Gardener, as would anyone looking for a soothing respite from day to day life. For a truly proper viewing experience, you might try watching it from a lawn chair with a cool mint julep in your hand.
The Gardener (2016) Directed by Sébastien Chabot. Written by: Sébastien Chabot. Starring Francis Cabot, Anne Cabot, Adrienne Clarkson, Colin Cabot, Raynald Bergeron.
6.5 out of 10