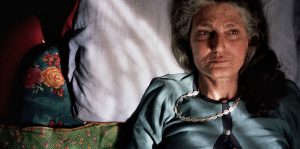 Beniamino Barrese grew up in a very close relationship with his mother. From a young age, he had an interest in filmmaking and photography, and his mother was his original and favorite muse. The interesting part of this phenomena is who his mother is. She's Benedetta Barzini; a world-famous Italian supermodel turned activist turned professor. She modeled for Richard Avedon and Ugo Malas, she was engaged to Gerard Malanga and hung out with Andy Warhol at the factory. She is probably the coolest mother a person could have.
So one would think that as far as muses go, Benedetta is a perfect one, and she was for Beniamino and so many other photographers and fashion designers for a large part of her life. Much of her identity was based upon being seen and eventually, she got over it. At the age of 76, she finally decided she'd had enough.
At the beginning of The Disappearance of My Mother, we discover Benedetta's grand plans for the rest of her life. "Entering a world that's the opposite of one I've lived in up to now. I live in a world where everything is delegated to photography. Nothing is left to memory, your own memory. What I'm interested in, instead, are the things that can't be seen, not those that can be." Her plan of action is to move to an island "far enough away that no one can ever get there."
"Her plan of action is to move to an island 'far enough away that no one can ever get there.'"
The rest of The Disappearance of My Mother is Barrese's attempt to come to terms with losing his muse and one of his closest confidantes, who also just so happens to be his mother. He records almost every aspect of her waking (and sometimes sleeping) life up until the time she decides to leave. Sometimes, it is all in good fun, and Benedetta doesn't seem to mind that Beniamino is recording her. Others, she makes it well known that she doesn't want to be recorded. There's a lot of arguing, but the more of the film we see, the more we understand that it's coming from a place of love.
In addition to current footage of Benedetta in her home, as well as at a photo shoot and a runway show, and hanging out with her pal from her modeling days, Lauren Hutton; we see footage from her heyday in the '60s and her evolution from supermodel to leftist feminist and college professor. Additionally, Barrese has other models reenact some of Barzini's more iconic photographs.
I know it's only January but so far, this is the best documentary I've seen in 2019, and honestly in quite some time. The intricacies of a mother-son relationship are laid bare for all of us to see, despite how little Benedetta wants them to be. She says she only did this film because she didn't want to hurt her son, so she decided to hurt herself instead. The ending is perfect and bittersweet and there's no way I will ruin it for any potential viewers. The Disappearance of My Mother is rife with grand philosophical questions about beauty, capitalism, love, life, and death, while still maintaining the intimacy of a family connection.
"The intricacies of a mother-son relationship are laid bare for all of us to see…"
I didn't know much about Benedetta Barzini before seeing this film, so don't feel intimidated by that if you don't either. You will get to know a lot about her throughout the film, and if you're anything like me, you'll love her by the end of the film, which makes it sad to know that (if she gets her wish) you'll never see her again. It also makes you happy to know that she's finally at peace in a world without cameras, if she's ever able to find it.
The Disappearance of My Mother (2019) Written and Directed by Beniamino Barrese. Starring Beniamino Barrese, Benedetta Barzini, Lauren Hutton, Candace Lam. The Disappearance of My Mother screened at the 2019 Sundance Film Festival.
10 out of 10 stars