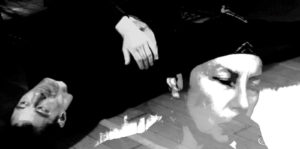 So the first waft of intrigue in auteur Antero Alli's new experimental video, The Celebrants, occurs immediately with an untouched romp through seeming mundaneness. What's with all this natural lighting and round-the-house footage? What's the writer-director up to? We seem to have walked in on a magician's morning, with Alli in a badass flowing dragon robe, writing in a book while Sylvi Alli plays the piano. Douglas Allen listens to her playing while wrapped in a blanket on a couch. 
The decor is pure old-school Bay Area star child. The Allis retire upstairs while Douglas does some stretches and movement exercises. None of these people, all portraying a version of themselves, has spoken a word yet. When they run into one another, they communicate with hand gestures or abstract noises. Sylvi makes some tea for everybody, the good stuff. At this point, anything could happen because behavior this normal in an experimental video is bizarre. What's Alli up to?
Alli gathers everyone around the table and starts discussing the concept behind the experiment being filmed in The Celebrants. He first announces he is not going for a pre-determined look or trying to produce a pre-imagined product. Instead, the director is interested in how a person gets into that state of mind where things get created out of nowhere. This is where the giant clam of the project swallowed me, as that is a subject that fascinates me.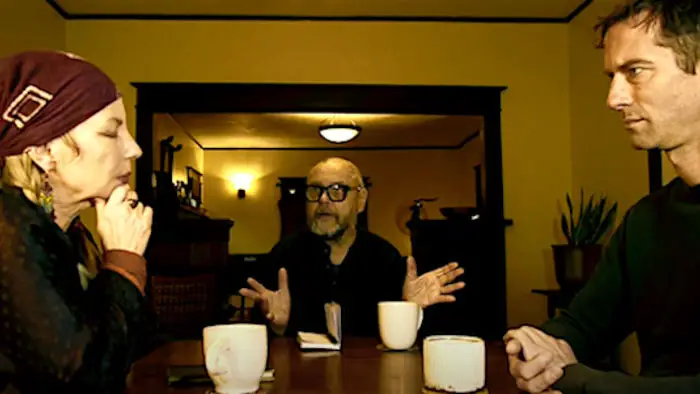 "…interested in how a person gets into that state of mind where things get created out of nowhere."
Allen confesses he can access that self-hypnotic state of creativity at the drop of a hat. I am envious, as it takes me three bongers and one and a half Allman Brothers Band albums before I really start to cook. It seems Alli wants all three of them to start improvising a discipline together to see what happens when everyone's energy is intertwined, like electric boogie serpents. He will film the results as he wants to capture the spontaneity of creation, not necessarily what is created. Then, everyone drinks their tea and gets down to it.
We switch from orangish kitchen table lighting to a splendid, slightly polarized black and white. Now The Celebrants is starting to look like an Alli flick. Sylvi Alli does some abstract vocalizing, similar to Diamanda Galas. Allen does some modern dance-style contortions with some outlandish expressions and gestures. All the while, Alli saws away on a tripping drone guitar. The filmmaker uses good old-fashioned super-imposition to overlay images to simulate the energies churning together. With the bodywork Allen unfurls as the anchor, the images attain a sinister expressionistic sheen when powered by the fountain of sound produced by the Allis.
Once again, as the stated intent was to capture creating something instead of trying to create a specific artistic work, the experiment is a success. However, the real pleasure is how deliberate the three stages of the video are in guiding the viewer. By showing artists not in the throws of creating in the first stage, we definitely can tell the difference when the art is on full blast in the third stage. Plus, Alli goes ahead and lays it all out plain in the second stage, inviting everyone in on what is about to happen.
The Celebrants is an underground film made for the people, which is probably why it's available to watch online for free. I wasn't sure where it was going, but I did know when it got there and why. Alli is one of the last great practitioners of American experimental cinema magic, and this is another great spell.
For more information about The Celebrants, visit the Vertical Pool website.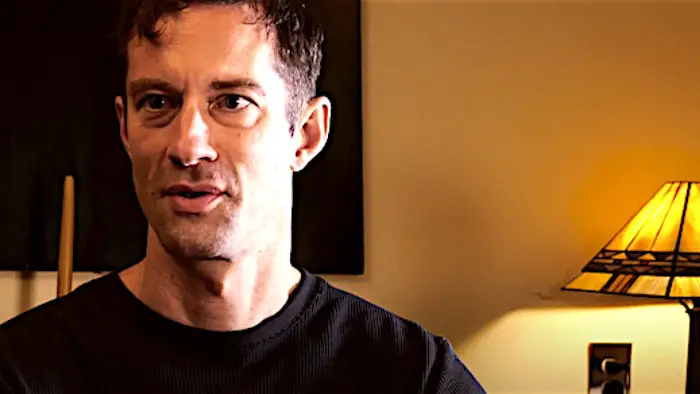 "…one of the last great practitioners of American experimental cinema magic..."