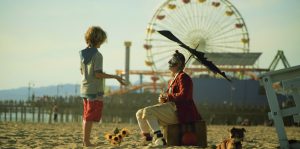 The strangest thing about The Boy, The Dog, And The Clown is that Nick Lyon directed and co-wrote the family drama. For those who don't recognize his name, Lyon is the director of several Asylum and Syfy movies; all of them genre heavy. If one were to read the description on the back of a DVD for his movie Bullet, you'd see it touted as a manly man's movie, with more testosterone than Arnold Schwarzenegger at a bodybuilding competition. That is a paraphrase, of course, but the person who helmed that title has now made a family film whose tagline is "To believe is magic."
Adrien (Adrien Lyon) is at the beach when he sees a sad-looking clown (Gabriel Dell Jr.) and his dog Foxy. To cheer up the clown, he asks to see a few magic tricks. The clown perks up and performs a trick that makes a butterfly appear in the middle of Adrien's palm.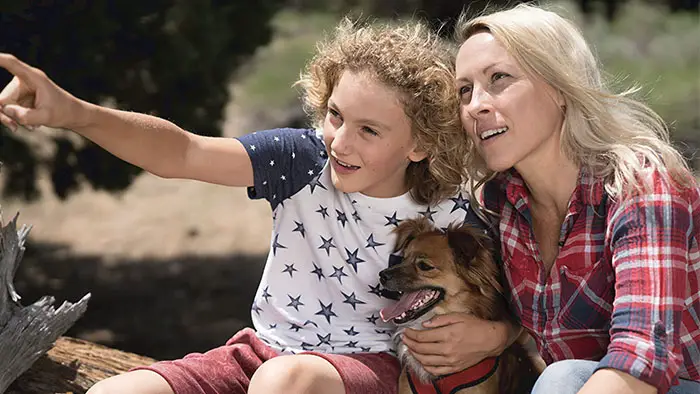 "…Adrien has been sad and not himself since his dad died…not evident in the way the character acts…"
After the trick, the kid has to go home. He excitedly tells his mom (Kiki del Vecchio) all about the clown and the magic trick. He even tries to perform it himself, but it does not work. Kiki is happy to see her son so alive and energetic after the passing of his father. Adrien and the clown continue to meet up, and the boy invites the clown to his camping birthday party.
At the party, Adrien's Uncle Steve (Kenny Johnston) and Aunt Michelle (Jennifer Christopher) are amused by the clown but worried at how little anyone knows about him. Does the clown have ulterior motives? Is the obituary Kiki found actually for the clown, and he is a spirit?
The Boy, The Dog, And The Clown is perfectly adequate but not much else. The problem is that the script, which Lyon co-wrote with Ron Peer, tells the audience that Adrien has been sad and not himself since his dad died. However, that is not evident in the way the character acts throughout the entire movie. Adrien is the one who helps the clown perk up during their initial meeting, not vice versa. Adrien is the optimistic one, who wants to help the homeless clown, versus his more hesitant mom. He is the one who is so excited to go on this camping trip and believes in real magic from the start.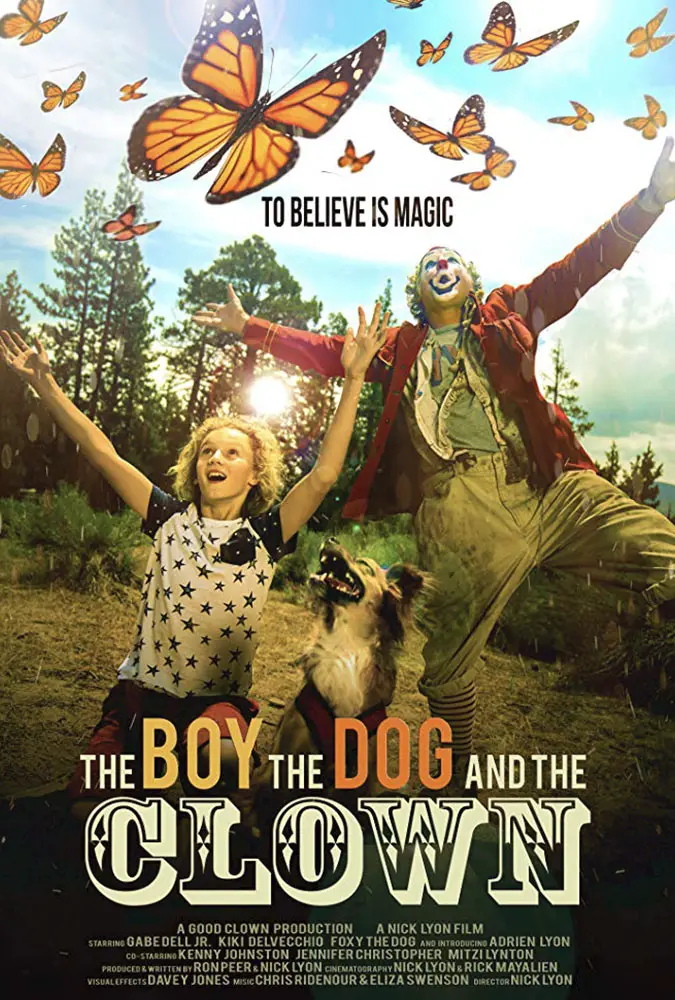 "…Adrien Lyon is spunky and fun in the lead role"