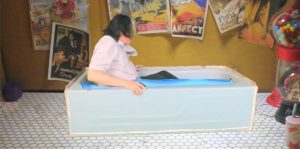 The Bathtub comes from the wildly talented multihyphenate Dylan Mars Greenberg. It stars Bob Bert, who is usually seen behind a drumkit, whether it be in Sonic Youth, Lydia Lunch Retrovirus, Wolfmanhattan Project, and more. His presence was enough for me to want to watch this, but then again, so is the fact that Greenberg made it. She might be most recognizable to many of you from her roles in the Lloyd Kaufman-directed Troma films, Return to Return to Nuke 'Em High Aka Vol. 2 and #ShakespearesSh**storm. However, she has been making music and movies for a very long time, from a very young age, in fact, and they're all imaginative psychedelic fun, such as ReAgitator: Revenge of the Parody.
Though only 15-minutes long, The Bathtub packs in enough weird hijinks to really suck you in. Bob Bert plays Bob, an unassuming, mostly mute man who just so happens to like hanging out in the bathtub with his clothes on. He also has a periscope pipe near the bathtub where he can watch his neighbors. Those include The Old Lady (Amanda Flowers), the mustachioed Leather Man (Cindy Colon), the spoiled grown-up rich kid previously mentioned, Dewey Bucksworth (Jurgen Azazel Munster), and of course, the one and only Lloyd Kaufman as an angry landlord/casino owner. Flowers, another Troma and Greenberg film veteran, also plays an alternate universe Amanda who is in love with Bob and her rich neighbor.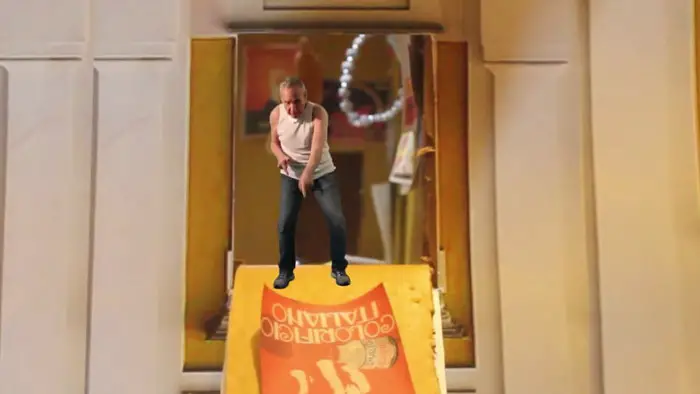 "…has a periscope pipe near the bathtub where he can watch his neighbors."
Bob then goes on a very wild and strange adventure that ends up with him singing in front of a large crowd in a casino. The song is about Cherie Currie from The Runaways, who starred in Greenberg's Spirit Riser. The person who was supposed to perform, Bacon Cheeseburger (John Brennan, a Troma alum, producer, and musician), is understandably pissed off that Bob has taken his place. The Casino owner is just pleased the crowd liked what they saw.
There is so much more to this film than what the synopsis offers. That is because Dylan uses every available inch of the screen to provide outlandish visual treats. She uses both animation and model work. There's a flying leather-bound criminal on the run from a cop, who can also fly. It's bizarre. It comes across almost as if Nick Zedd directed an episode of Peewee's Playhouse. This short definitely shares the same sort of transgressive New York vibe of Zedd's earlier work. These eccentricities can also be attributed to the fact that this movie is based on a dream Greenberg had. It has a displaced, dreamlike quality that really makes it unique. The music throughout, from John Brennan, Bob Bert, and more, makes it even more worthy of your enjoyment.
You can watch The Bathtub online for free on Yahoo! and honestly, you should take the fifteen minutes out of your boring homebound day to watch it. It's a great introduction to Greenberg's work that will leave you wanting to seek out more of it. I'm glad to see Greenberg's star on the rise and can't wait to see what she does next.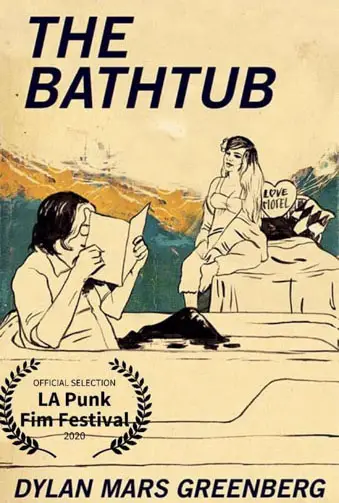 "…as if Nick Zedd directed an episode of Peewee's Playhouse."