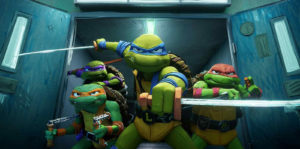 The influence Teenage Mutant Ninja Turtles had on popular culture since they burst into our collective consciousness on TV in 1987 is that of kaiju-like epic proportions. As a kid, I ate it all up by religiously watching the cartoons, collecting action figures and comics, playing video games, and dancing along to Vanilla Ice's "Ninja Rap." The Ninja Turtles have been visible to kids on shows since the Golden Turtles era in one form or another. The movie franchise has been rebooted several times, with producers still trying to recapture that late 80s and early 90s magic. Enter the animated film Teenage Mutant Ninja Turtles: Mutant Mayhem from co-directors Jeff Rowe and Kyler Spears, written by Rowe, Dan Hernandez, Benji Samit, and writers/producers Seth Rogen and Evan Goldberg.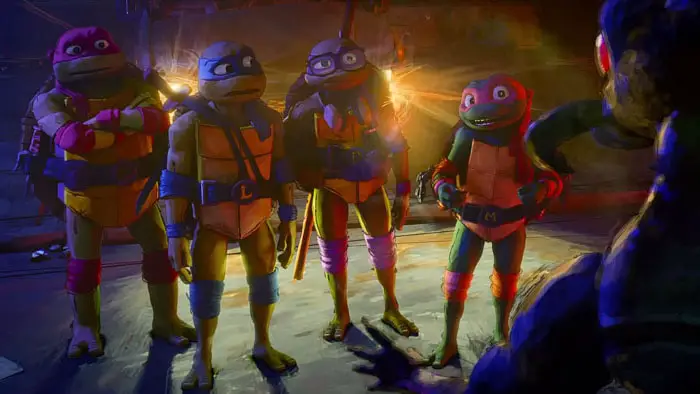 "…ooze leads to a variety of mutant creatures."
There's a ton of comedy experience between these guys, and while the humor is hit-and-miss, the universal theme of feeling like an outcast and just wanting to be accepted is what resonates most. The animation style feels purposely crude (with intentional jagged edges) yet eye-catching, which reminds me of the feel of the original comics by Peter Laird and Kevin Eastman. The filmmakers also follow the style of the Spider-Verse films by incorporating a blend of 2D and 3D animation that pops off the screen. There are some slow spots, but the visuals help to make those parts more digestible.
The story once again brings us the origins of Master Splinter (the legendary Jackie Chan) and the turtle team with Renaissance artist names: Leonardo (Nicolas Cantu), Donatello (Micah Abbey), Michelangelo (Shamon Brown Jr.) and Raphael (Brady Noon). They must contend with Baxter Stockman's (Giancarlo Esposito) awry experiments, as his ooze leads to a variety of mutant creatures.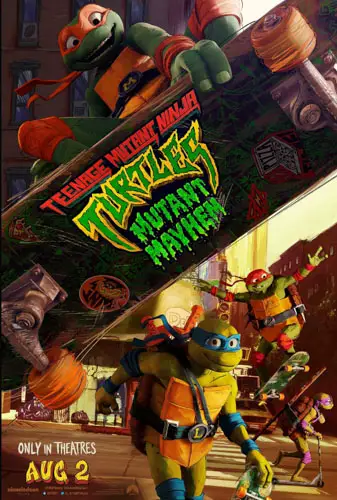 "…the Turtles actually feel and talk like young teenagers..."