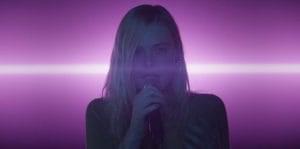 Reading a plot synopsis for a movie can frequently be misleading. A few sentences, or even a paragraph or two, cannot always get across the subtleties of the character interactions or the unique spin offered by the writer, director, and cast. With that in mind, Max Minghella's directorial debut, Teen Spirit, sports a plot that doesn't seem to be anything new. In its broadest strokes, the film is a familiar underdog tale featuring the seemingly mismatched mentor and mentee dynamic.
Violet (Elle Fanning) lives on a farm in the Isle of Wight in the United Kingdom. Violet loves music and singing, something her mom (Agnieszka Grochowska) believes is just a distraction from school and work. A few days a week, Violet will leave her waitress job early to sing at a local bar.
It is at this pub that former opera singer Vlad (Zlatko Buric) hears the young lady sing. Shortly after the two meet, the singing competition Teen Spirit comes to the island, and it seems everyone at school is going to audition. This includes Violet, who gets to the next section of the contest but is told she needs to polish parts of her performance. She goes to Vlad and asks for his help. He agrees as he sees great potential in Violet. Is Violet good enough to make it all the way through to the grand finale? Can she win?
"…about two souls, one older, one younger, who both feel trapped in their lives for various reasons."
Movies about competitions like this have a tendency to focus on the music, or the dancing, or what have you. The filmmakers get so wrapped up in that aspect that the fact that movies are a visual storytelling medium gets pushed to the side. Max Minghella's Teen Spirit delivers a kinetic, sensory overload in the best way. Along with the Autumn Durald, who is the director of photography, they have created a living, moving painting. From the way, the sunlight cuts across the open field Violet rides her horse through, to the vivid, pulsating lights during the singing competition, even down to the hazy, soft, backlights of the bar Violet sings in, every frame is a piece of art. Every moment of the film is beautifully mounted and visually awe-inspiring.