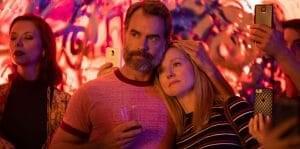 American Author Armistead Maupin's Tales of the City returns to the small screen with the fourth installment of Maupin's love letter to the city of San Francisco, weed, and sex. Admittedly, I've only seen the first series also called Tales of the City on PBS, and I barely remember it today. What I do remember is it was the first time I'd seen stories of the LGBT community on television and the first step to me understanding that what my very conservative church was saying about gays and lesbians was not 100 percent true.
Fans for the prior three installments are going to love the return of its core characters, and writer/producer Lauren Morelli does an excellent job not keeping new viewers in the dark for too long. The series once again centers on a rather quaint apartment building in the center of San Francisco located on 28 Barbary Lane. This particular building has served as a safe space and haven for anyone and everyone for decades (yes, I know I'm understating things there).
"…a quick catch-up…since Further Tales of the City and centers on landlady and matriarch Anna Madrigal's 90th birthday."
The first episode serves as a quick catch-up of the last 18 years since Further Tales of the City in 2001 and centers on landlady and matriarch Anna Madrigal's (Olympia Dukakis) 90th birthday. We meet new characters Margo (May Hong) and Jake (Garcia), who are both queer, but both posing as boyfriend and girlfriend (not fooling anyone). There are also the twins, Jonathan (Christopher Larkin) and Jennifer (Ashley Park), who are late on their rent and decide to become internet stars to make fast money.
Returning to the show is Michael 'Mouse' (Murray Bartlett), who is in a very committed relationship with a younger Ben (Charlie Barnett). There's Brian (Paul Gross), the single father, who raised his daughter Shawna (Ellen Page) with the help of Barbary Lane. And Mary Ann (Laura Linney) returning after a long absence to celebrate Anna's birthday and returns with mixed reactions with a particularly icy reception from her ex-husband Brian and "daughter" Shawna.
One of the problems with Identity Politics is society lumps a large group of people into one huge category and assigns them common traits and experiences, thereby limiting the diversity it claims to support. What Tales of the City does is take the LGBTQIA community and breaks it down into its individual and unique stories. While each character identifies themselves with the larger community, what is born is a different path or journey solely unique to that individual, which says there is a lot of stories to tell in Tales of the City.
"Fans of Maupin will fall right into place, and new viewers that want a little drama will quickly come onboard."
Anna's 90th birthday sets off several plotlines as a good pilot should. Margo and Jake have placed themselves in a complicated friendship/relationship loosely held together by the secret they keep. Mary Ann's return has caused problems in her unraveling marriage as her husband wonders why she hangs around those "freaks." Then there's Shawna, who really couldn't give-a-damn about why Mary Ann left her as a child and Mary Ann wonders why Shawna thinks she is her mother (crazy!). The twins provide the light, comedic subplot of internet stardom. What about Michael and Ben? Seriously, what about them? Their relationship just seems too perfect. Odds are something's brewing.
Episode one serves as a great start for the series. Writer Lauren Morelli and director Alan Poul set a nice pace to ease us into a ten-hour TV binge. Fans of Maupin will fall right into place, and new viewers that want a little drama will quickly come onboard. The veteran actors lay a solid foundation for the new one to come in and find their place. Tales of the City returns with its trademark stories of diversity within diversity aided to copious amounts of molly and weed.
Tales of the City (2019) Directed by Alan Poul. Written by Lauren Morelli. Starring Olympia Dukakis, Laura Linney, Ellen Page, Charlie Barnett, Murry Barlett, Garcia, Paul Gross, May Hong, Christopher Larkin, Ashley Park. Tales of the City premiere at the 2019 San Francisco International Film Festival.
7.5 out of 10 stars