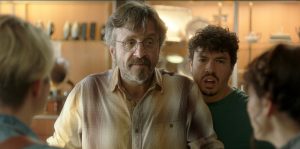 Lynn Shelton is a personal hero of mine because she started her directing career in her mid-30's, proving that you don't have to be a wunderkind. There's enough room in the boat for all of us and all of our stories. Shelton has directed a lot of great television and a handful of quietly brilliant films, such as Humpday. Sword of Trust is her latest offering, and it is a masterfully written, hilarious, ridiculous, and sad tale of life-like absurdity. 
Set in Birmingham, Alabama, Sword of Trust starts with Cynthia (Jilian Bell) and her wife, Mary (Michaela Watkins) visiting Cynthia's deceased grandfather's home, which she believes she's to inherit. She's instead greeted by the estate attorney who lets Cynthia and Mary know that her grandfather put a reverse mortgage on the house and it's now the bank's property. However, Cynthia's grandfather did leave her something—a sword. Not just any sword either. It's a sword believed to have been used by either General Sherman or Sheridan to get Robert E. Lee to surrender, which means that not only Cynthia's grandfather but a whole group of people actually believe that the Civil War was won by the south and that the "Deep State" has been trying to cover it up for years. 
"It's a sword believed to have been used by either General Sherman or Sheridan to get Robert E. Lee to surrender."
Cynthia and Mary want to get rid of the sword as soon as possible, due to the insanity it represents to them, so they go to the local pawn shop which is run by affable-yet-gruff New Mexico native, Mel (Marc Maron). Right before they enter, we're shown how Mel sometimes gets one over on his customers, and we're expecting more of the same for when Mary and Cynthia come with the sword. However, neither party seems willing to be the sucker of the situation. Mel can't believe that there are actually people out there who believe the south won the Civil War, and Cynthia and Mary can't believe that he's only willing to give them $400 for the sword. A deal is not reached right away. Then after the couple leaves, Mel's gullible employee, Nathaniel (Jon Bass) introduces Mel to the world of trutherism, where the two find out that there's definitely a group of people who believe this falsehood about the Civil War, or as they call it, The War of Northern Aggression. They also discover that the group will pay big bucks for any artifacts that help further their agenda. Nathaniel was able to find these groups so easily because he himself believes that the Earth is flat. Cynthia, Mary, Mel, and Nathaniel team up to sell the sword to a big money buyer in the Civil War truther community. A lot of ridiculous hijinks ensue. 
Sword Of Trust is one of the most well-written and acted comedies I've seen in quite some time and definitely the best I've seen so far this year. It has a high absurdity factor but simultaneously the set, costume, and production design is so life-like, you willing go along for this truly weird adventure that really only could happen in the south. This is the first film that Shelton has shot outside of the Pacific Northwest, but she fits right at home in Birmingham, really embracing the pace that the region runs at and showing the heartbreak that resides in the Southern air. In the background is Mel's decades-spanning relationship, that lingers in the back of his mind and nurtures his cynicism and closed-off nature. we hear one brief story to explain his trauma, but knowing what he went through with Deirdre (played by Shelton) gives weight to his character, and the film, that wouldn't have been there otherwise. A particular scene towards the end is especially heartbreaking, but in a quiet way, which is how most heartbreaks occur in reality. 
"…I love him and think he can do no wrong for the most part."
Something else that is absolutely worth mentioning about Sword Of Trust is that Marc Maron performed the score with his band, and it's pretty damn cool. It's Bluesy guitar and harmonica, very much in the Delta Blues tradition, which is talked about a lot by Mel in the pawnshop. I appreciate how well-rounded of a talent Maron is, and I guess I should also just go ahead and say that I love him and think he can do no wrong for the most part. It's been a lot of fun to see him act over the past few years all while being one of the best stand-up comics in America and running his wildly entertaining interview podcast WTF. Lynn Shelton directed one of his previous stand-up specials (Marc Maron: Too Real) as well as several episodes of G.L.O.W., so watching them work together on a feature is a joy. 
Before I close, I have to mention how wonderful Dan Bakkedahl and Toby Huss are as members of the super-secret society who want the sword. The whole cast is hilarious, and all work very well together. I am really excited for everyone else to get a chance to see Sword Of Trust simply because of how funny and weird it is. I can think of so many people who would love the film ended I'm waiting for opening day to hurry the hell up and get here, so I have some other people to talk about this movie's greatness. 
Sword Of Trust (2019) Written by Lynn Shelton & Michael Patrick O'Brien. Directed by Lynn Shelton. Starring Marc Maron, Jilian Bell, Michaela Watkins, Jon Bass, Lynn Shelton, Dan Bakkedahl, Toby Huss, Timothy Paul, Whitmer Thomas, Al Elliott 
10 out of 10 stars 
Listen to an interview with Sword of Trust director Lynn Shelton on the Film Threat Podcast.