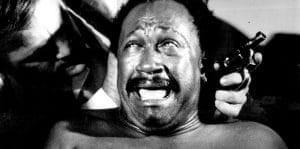 On March 31st, 1971, an independent film made by a black man for the black community opened at the Grand Circus Theatre in Detroit and broke the house record. Two days later, it broke another record in Atlanta and became the top-grossing independent film of the year (according to some sources). It sparked a wave of underground filmmaking that lasted at least a decade and became an incredibly polarizing statement of experience. That film was Sweet Sweetback's Baadasssss Song.
To be fair, this was not the first all-black production to hit the silver screen. So-called "race" films existed through the first half of the 1900s. Comprised of black crews and casts, they delivered entertainment to a specific audience who would relate to the stories. Many of these films are tragically lost to time or have yet to be properly reissued, but one is widely available on any number of fifty or one-hundred public domain movie collections. Clocking in at just under an hour, Oscar Micheaux's Ten Minutes to Live (1932) presents a near-anthology of two stories centered around a Harlem nightclub. Sporting several musical numbers and a strange sense of framing the image, it and its contemporaries paved the way for a young filmmaker named Melvin Van Peebles.
"…goes on the run, encountering people from his past, the mob, Hell's Angels and bounty hunters along the way."
Sweetback wasn't Van Peebles' first film, either. As he tells it, he'd made a series of shorts and brought them to Los Angeles, where the studios offered him a job as a janitor. Instead, he moved to France, where he wrote several books and made 1968's The Story of a Three-Day Pass, a beautiful film about a black American GI who has a love affair with a white woman while on weekend but finds himself demoted and shamed when he returns to base. The film garnered enough attention to get him a studio deal. Columbia picked him to make The Watermelon Man (1970), the story of a typical suburban bigot who wakes up one day to discover that he's turned black overnight. Starring Godfrey Cambridge, Estelle Parsons, Howard Caine and Mantan Moreland, it established Van Peebles as a serious, if unorthodox, director.
When it came time to make Sweetback, however, he decided to make it on his own with no studios or financiers telling him what to do. It was a story he wanted to tell and it resonated. Essentially, it centers on Sweetback (Van Peebles), a male prostitute and performer in homemade underground sex shows, whose boss lends him to the police so their boss knows they're working. Along the way, they arrest Mu-Mu (Hubert Scales), a young, charismatic Black Panther, and take him to a side road for "a little walk." Sweetback grows angry watching the abuse and attacks the cops, beating them into a coma and setting Mu-Mu free. He then goes on the run, encountering people from his past, the mob, Hell's Angels and bounty hunters along the way. It sounds pretty straightforward, but it's not.
Most noticeably, Van Peebles' visual style blends the uncanny staging of home movies with a French New Wave perspective on iconography and metaphors. The result resembles Easy Rider, Herschell Gordon Lewis and Jean-Luc Godard with George Romero's "cover-your-a*s" style quick editing, but completely unique in delivery. Psychedelic visuals propel the story from parts of Los Angeles we don't usually see on film to the desert. A bombastic soundtrack, performed by Van Peebles with a very early Earth, Wind & Fire, adds to the tension with gospel, funk, and atonality.
"…blends the uncanny staging of home movies with a French New Wave perspective on iconography and metaphors."
A word should be said about the opening sequence in which Sweetback discovers his calling in life. The young boy, played by Melvin's son Mario Van Peebles, is rather graphically seduced by a much older woman. Many people have derided the scene as child pornography and irresponsible parenting. No genitals are seen and Mario was under the strict supervision of his father the entire time. Yes, it is disturbing, but it's also something that happens every day whether we like to admit it or not. Children are abused and coerced into sex on a regular basis. Van Peebles throws that in our face with a stark sense of reality. Pornography is meant to excite; this is just nauseating.
Read anybody's take on the film today and half love it while the other half loathes it. That contrast typically indicates you've done something right. Regardless, Sweet Sweetback's Baadasssss Song brazenly kicked the door open for everything from direct imitators like Shaft, Superfly, and Dolemite to modern filmmakers like Tyler Perry and Ice Cube. Whether you love it or hate it, we owe this film a debt because it literally changed the world.
Sweet Sweetback's Baadasssss Song (1971) Directed by Melvin Van Peebles. Written by Melvin Van Peebles. Starring Melvin Van Peebles, Simon Chuckster, Hubert Scales, John Dullaghan, Mario Van Peebles, Brer Soul and The Black Community.
10 out of 10 stars