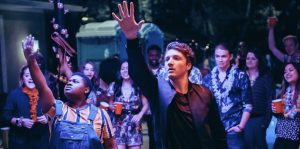 SFFILM FILM FESTIVAL 2021 REVIEW! Whenever a so-called teen sex comedy comes out, I see reviews and interviews mention that no matter how raunchy the antics get, there's still "heart" behind the story and characters. I've heard this so many times that the "heart" has become a cliche. But even cliches can be good, as proven in director Teppo Airaksinen's Supercool, a teen sex comedy with "heart" coursing through its veins.
The film is about two social outcasts trying to nab an invite to the biggest party at their school. Neil (Jake Short) is an imaginative artist who has had a massive crush for years on popular girl Summer (Madison Davenport). His love for her from afar translated into some semi-erotic comic book art between the two. Serving as his best friend and wingman is Gilbert (Miles J. Harvey), who motivates Neil to ask Summer for an invite to the party, but nervously vomits on her instead.
That night, Gilbert brings up the urban legend that on 11/11 at 11:11, any wish you ask for will be granted. Neil wishes to be cool in the eyes of Summer, and the following day, Neil wakes up looking "supercool." He has transformed into a major stud (Josh Cranston). Armed with good looks and newfound confidence, Neil (or now Ace) gets the all-important invite to Summer's party.
But nothing's ever easy in a teen sex comedy. Gilbert convinces Neil that he needs to arrive in a super cool car. They approach their neighbor, Jimmy (Damon Wayans, Jr.), hoping they can borrow his brand new Porsche. Jimmy agrees (long story) and has them meet him at a local convenience store, where Jimmy tricks Neil and Gilbert into robbing the cashier.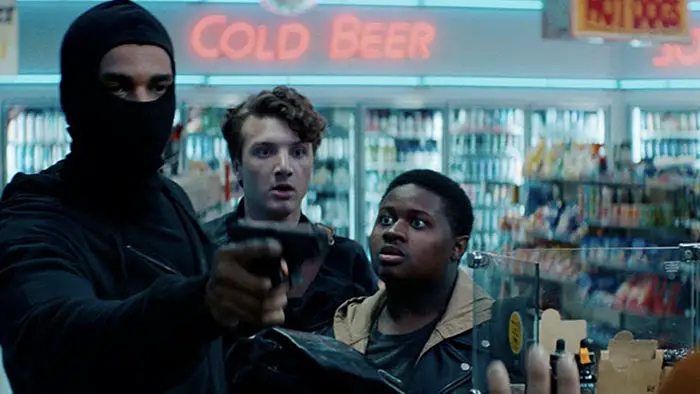 "…Neil wakes up looking 'supercool.' He has transformed into a major stud…"
Supercool gets crazier from here as the trio is hardly the criminal type. Then add a second high-profile party Neil is invited to for his model good looks and a slowly building rivalry between Neil and Summer's boyfriend, Chad (Will Meyers). All of this is just the tip of the iceberg.
Let's talk about heart. Strip away all the sex-charged antics, and this is a story of friendship and brotherhood between two best friends. Their loyalty is tested as Gilbert takes advantage of his friend's newfound good looks, while at the same time, Neil just wants to muster the courage to talk to Summer. Yes, the screenplay by Olli Haikka and Ali Moussavi goes down the same road as the multitude of films that have come before, but it works.
I think it works because as crazy as the antics get, it never feels like it's done gratuitously or just to give a sexual charge for no reason. Also, I appreciate Jake Short's performance as Neil. In the film, we only see the "Ace" personality when Neil is looking in a mirror, so it's Jake on screen the entire time. What Supercool does that is different from other "body-swapping" stories is that Neil never changes. Though he's impossibly handsome, he's still just as insecure as ever. Being Ace only gives him an ounce of confidence to speak to Summer.
Supercool is also unlike other teen sex comedies. There's no unnecessary nudity, nor this there a continuous stream of profanity, and anything that might resemble a "gay" joke is not a joke about being gay. In other words, the heart of the story is there in its themes of friendship, identity, and self-confidence.
Supercool premiered at the 2021 SFFILM Film Festival.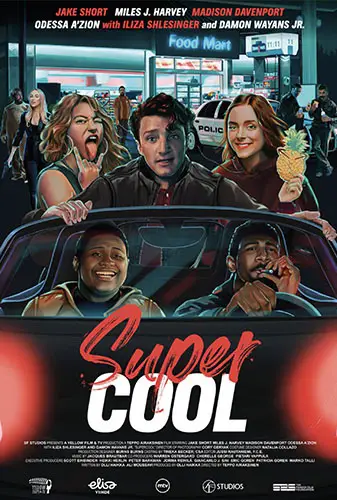 "…the heart of the story is there in its themes of friendship, identity, and self-confidence."