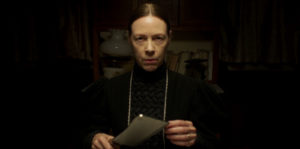 NOW ON VOD! Can you be fabulous even when you have a meat cleaver coming down on your pretty little head? Writers/directors Wesley Taylor and Alex Wyse's spooky comedy Summoning Sylvia says yes. It opens with a séance in an old dark house that goes all sorts of creepy and strange. We then jump back six hours earlier to Larry (Travis Coles) blindfolded in the back seat of a car. His pals Nico (Frankie Grande), Kevin (Noah J. Ricketts), and Reggie (Troy Iwata) are throwing him a bachelor party before he gets hitched to Jamie (Michael Urie).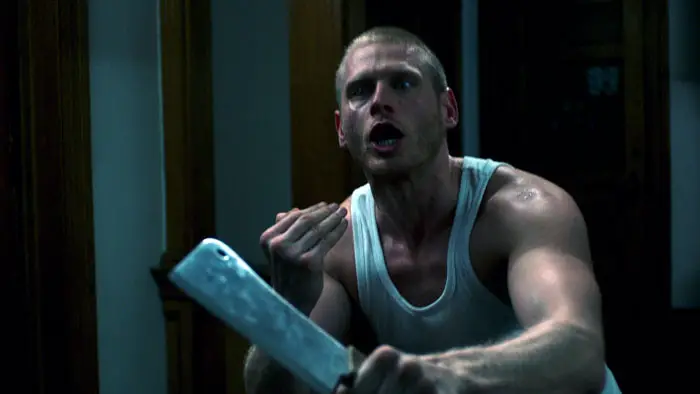 "Rumor has it that the spirits of the mother and son still haunt the halls."
Reggie knows what gets Larry's happy humming and has planned a weekend in a haunted house. The property they're staying at is the home to a legend of gruesome murders. Locals say over a hundred years ago, widow Sylvia (Veanne Cox) chopped up her boy Phillip (Camden Garcia) and buried him in the woods behind the house. Sylvia was then publicly executed by vigilantes, which was seen as just fine back then. Rumor has it that the spirits of the mother and son still haunt the halls. Larry is over the moon and immediately wants to summon Sylvia.
Nico, Kevin, Reggie, and the soon-to-be-groom all also want to work on their musical number for the wedding. First, however, Larry needs to make a quick call to Jamie, who has no idea he is out of town. Jamie reminds Larry he was supposed to hang with his future brother-in-law Harrison (Nicholas Logan) this weekend. Backed into a corner, Larry blurts out that Harrison should join the bachelor party, as it's only a couple of hours upstate. Larry has difficulty letting the others know about Harrison's arrival, as he is straight-laced and just returned from an army tour. This makes him an odd fit for a gay bachelor party. But then his problems with hosting runs right slam into issues with ghosting, and now we have a haunted house hootenanny!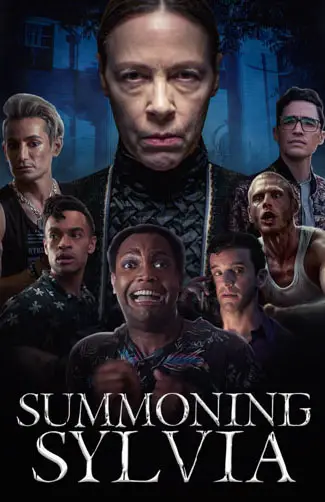 "…a mishmash of comedy with other genres."