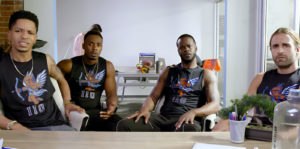 NOW ON TUBI! Terrence Green's directorial debut, Summer With The Guys, is a comedy focusing on a few down-on-their-luck football players. Written by Brashaad Mayweather, Marquese 'Kese' Deese, and Heidi Weitzer, the film stars Green as DC, a college football player whose real passion is dance. Mayweather is his friend and fellow athlete Bmore. Their other two roommates are Jay (Brannon B. Watts Watson) and Dan (James Hal Hardy), both of who are also on the team.
These pals have a fun dynamic on and off the field. Unfortunately, bad news hits when they are informed that due to some changes in the department, all four of them are losing their scholarships when the fall semester starts. So the foursome becomes desperate to pay their bills, save for tuition, and have enough for a little bit of fun. Lucky then that they are young, good-looking, and in shape. Ms. Cash (Lina Outler) also notices this, and soon DC, Bmore, Jay, and Dan are strippers. Unfortunately, Ms. Cash forces them to take drugs before going on to "loosen" them up. And then DC starts selling drugs on the side to make even more money. Are these friends in over their heads, or can they finish their education flush with cash?
Summer With The Guys shows its indie budget in a few ways. For starters, the sound is all over the place. Sometimes the entire soundtrack drops out for a few seconds, then the person speaks. Other times, the music and dialogue are on the same level, making it difficult to make out one or the other. The editing is similarly awkward at points. Near the end, a supporting character is walking toward the leads. He notices DC isn't there. DC speaks up as he's behind this man. The editing shows the man talking and then turning to listen to DC. Then there's a shot of DC, followed by a quick insert of that man turning again. Mind you, not mid-turn or anything, a follow 180 again. But this time, from the other side of the axis. It's awkward. While this is the biggest offender, such editing confusion occasionally happens throughout the hour and 28-minute runtime.
"…due to some changes in the department, all four of them are losing their scholarships…"
However, the film works overall due to the swagger and looks of its male leads. The central performers are all a lot of fun. Now and then, there's a line that isn't too convincing, but often this happens when the soundtrack drops entirely (as already mentioned), implying it is some sort of ADR problem more than an acting one. Green is sweet and easy to like, and Hardy has excellent comedic timing. Mayweather is very charismatic, while Watson is fun. Outler is threatening but fun as the conniving madam of the strip joint.
Plot-wise, Summer With The Guys is straightforward, though some story beats do not work at all. For example, the landlord gives the four footballers a 24-hour eviction notice, as the school has stopped paying their rent. 1. It's summer, so why would the college be doing that? 2. That is illegal, as a minimum required days of notice is required. Aside from such unrealistic turns, the narrative breezes along at a decent pace. What carries audiences through are the characters. They are fun, and viewers want the best for the four leads.
Summer With The Guys is very low budget, and it shows. It's also the director's first feature, which is also evident. However, despite some strange story beats, the film still works. The cast all have that little something, and the pacing is excellent. A lot of the jokes go for broke, especially at the end, making them land more often than not.